Takis, a world-renowned Greek sculptor famous for his artwork using moving lights, shapes and colors, died Friday at 93, according to his foundation in Athens.
Over his 70-year career, Takis was a pioneering figure in the 20th century "kinetic" art movement, in which works of art use movement, or the impression of movement, to create a powerful visual effect. He was also well-known for large displays of art in public places.
Read more: Berlin 24/7: Art today, gone tomorrow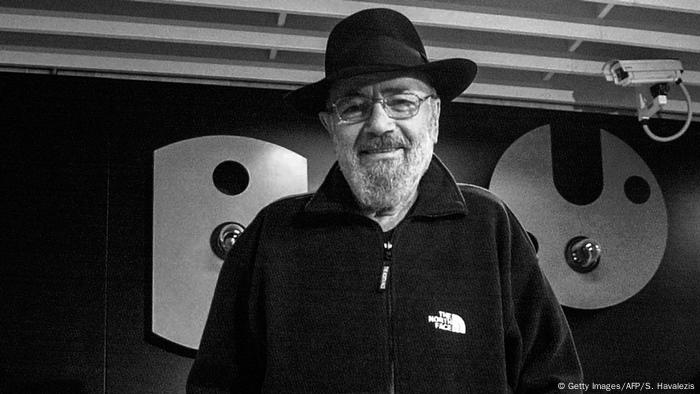 Takis pictured in 2001 with one of his installations at an Athens metro station
Announcing his death on Facebook, the Takis Foundation said the artist was a "true pioneer, innovator and legend."
"A prolific and visionary mind, whose ingenuity, passion and imagination was endless, Takis explored many artistic and scientific horizons, as well as music and theater, and redefined the boundaries in contemporary art."
Takis was born Panagiotis Vassilakis in Athens in 1925, and served in the Greek resistance to Nazi occupation of the country during World War II.
Inspired by Picasso, Giacometti and classical Greek sculpture, Takis moved to Paris in the 1950s, where he first gained attention for his avant-garde use of magnetic fields, technology, electricity and light. According to his foundation, Takis also spent time working in the US and Britain.
Some of Takis' works were placed in public places, with people mingling among the sculptures
Read more: Tate Expectations - First look inside Tate Modern's landmark extension - on DW News
On Friday, Greek Prime Minister Kyriakos Mitsotakis tweeted condolences, describing Takis as a "worldwide Greek, a pioneer, heretical, inexhaustibly creative, he opened new avenues in art."
The Tate Modern art museum in London is currently running a solo exhibition of Takis' work until October 27, which the museum has described as "some of the most innovative art of the 20th century."
DW sends out a selection of the day's news and features. Sign up here.
wmr/msh (AFP, Reuters, AP)