Chancellor Angela Merkel's government released its first budget since national elections in September, with analysts expecting a record budget deficit.
According to a draft issued by Finance Minister Wolfgang Schaeuble, the budget is set to be around 325.4 billion euros ($472 billion), despite an income of only around 239.6 billion euros.
This would leave Germany with a record budget deficit of 85.8 billion euros, the blame for which the Finance Ministry has put on the global financial crisis. The 2010 deficit will nearly double the existing deficit of around 37.5 billion euros.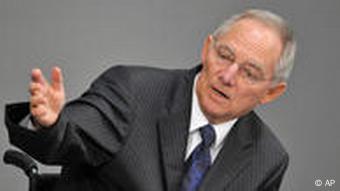 A draft proposal by Schaeuble does not include additional expenditures
But despite these figures, Schaeuble told reporters on Wednesday that Germany could still remain below the deficit limit imposed by the European Union this year, set at three percent of the country's gross domestic product.
"We could still stay just under three percent in 2009," he said. At the moment the estimates are between 2.9 and 3.1 percent, though the exact figure will become clear at the beginning of the year. But in 2010 Germany will definitely exceed the limit, risking censure from the EU.
"For next year there are no doubts," said Schaeuble. "We're going to have a deficit of closer to six than to five percent." But he promised to stick to the European Union's Stability and Growth Pact, and bring the deficit back under three percent by 2013. Schaeuble called German a "fundamental anchor in the Pact".
Axel Weber, head of the German central bank, said in late November that Germany should bring its budget deficit to below 3 percent of GDP by 2012.
But the government ruled out a cut in sales tax. "A sales tax raise is out of the question," Schaeuble confirmed.
Broken development promises
Germany's development ministry is to receive an extra 67 million euros a year, an increase of 1.2 percent. Development agencies and opposition parties criticized the increase as too small, and accused the government of breaking its promises.
The children's humanitarian organization Terre des Hommes and the German world poverty relief organization Welthungerhilfe said the budget did not match speeches made by Merkel. "In the face of the climate crisis and the worsening poverty situation, Germany is making itself noncredible," said Wolfgang Jamann, general secretary of Welthungerhilfe.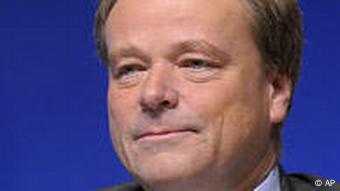 Development Minister Niebel did not get much extra money
Social Democratic development spokeswoman Sascha Raabe said that Merkel's target of bringing Germany's development aid contribution to 0.51 percent of the gross domestic product next year would now no longer be possible. Development Minister Dirk Niebel recently described this target as unrealizable.
"It is shameful that Development Minister Niebel apparently went into the budget negotiations without the slightest ambition," said Raabe.
But there was a significant rise in the education budget. Annette Schavan's Education Ministry will have an extra 750 million euros to spend next year, a 6.9 percent increase. Schavan described this as a "clear signal" that education and research would remain a vital part of the federal budget, in spite of the financial crisis.
The government's coalition contract promises to invest an extra 12 billion euros in education over the current legislative period.
Tax cut troubles
The release of the budget comes after Angela Merkel was forced to hold crisis talks with members of her Christian Democratic Union (CDU) party over the handling of Germany's economic recovery.
At the heart of the coalition's roadmap to recovery after Germany's worst recession since World War II is a program of tax cuts aimed at putting more money in consumers' pockets and cutting recession-hit firms some slack. The plan has met with resistance within the CDU.
The Bundesrat, parliament's upper house, was due to vote on the first wave of tax cuts on December 18. But several premiers of Germany's 16 debt-ridden states fear the new package would lead to lower state revenues.
The government expects the economy, Europe's largest, to grow by 1.5-2.0 percent in 2011, up from a forecast 1.2 percent next year, a government source recently told news agency Reuters.
Capital investment meanwhile is set to be at around 28.8 billion euros. The budget is expected to pass through parliament around March next year.
dfm/bk/Reuters/dpa/AP
Editor: Trinity Hartman