Gisele Bündchen was born -- together with her twin sister Patricia -- on July 20, 1980 in Brazil. Today, she is one of the most sought after and best paid top models in the world.
DW-WORLD: Who do you think should win the 2006 World Cup in Germany? And who should come second?
Gisele Bündchen: Brazil should, of course, become world champion. Germany could take the second place, since it is the country organizing the event.
Will you be watching the games?
I can promise, at least, that I'll watch some of it on TV.
What players do you think are indispensable?
I think Ronaldinho is extremely important.
What do you think about women's soccer?
I think it's great that women also play soccer.
And how do you yourself stay fit?
Sport is a wonderful thing and everybody should engage is some kind of physical activity. When I was a kid, I played volleyball and even took part in various contests. These days, when I have time, I go surfing, I do yoga or I play beach volleyball.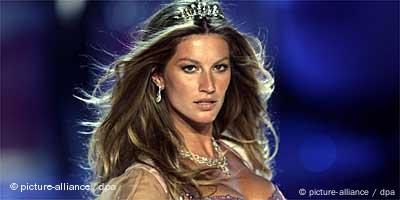 Gisele Bündchen is a leading top model today
What would you describe as the best goal of your life? Did you ever score an own goal? Or did you commit a foul?
I think my best direct hit was my decision to become a model. As for fouls… Ah! Many. As that old saying goes: "Live and learn."
You are of German origin. Do you actually speak German?

Nein, ich spreche nicht Deutsch. I was born in Horizontina, a town in the backcountry of (Brazilian) state Rio Grande do Sul. The town was once mainly colonized by Germans. In the school which I attended, learning German was actually obligatory from third grade on. But being out of touch with the language for such a long time, I unfortunately forgot it.
My parents, on the other hand, still speak German today. When they meet their brothers and sisters, they often speak only German. I belong to the sixth generation of my family in Brazil.

Carlos Albuquerque interviewed Gisele Bündchen (tt)