Germany rang in the changes at the start of the year as eight of the country's 16 states introduced a partial ban on smoking in restaurants and bars.
Berlin, Bavaria, Brandenburg, Bremen, Hamburg, Mecklenburg-Western Pomerania, Saxony-Anhalt and Schleswig-Holstein joined the three states already cracking down on smoking -- Lower Saxony, Baden-Württemburg and Hessen -- in the ban.
Three more states, Saxony, Saarland and Rhineland-Palatinate will impose their smoking restrictions in February, with North Rhine-Westphalia to follow while the last bastion on smoking in Germany, Thuringia, will introduce its ban in July 2008.
Bavaria cracks down, Berlin still lights up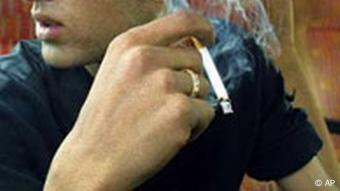 Smokers face differing laws regarding their habit in different German states
The latest measures follow the federal government's ruling to ban smoking on public transport from Sept. 1, 2007, which included taxis, buses, trains and planes anywhere in Germany.
The ban, which is seen by many smokers as an invasion of their personal liberty, allows states to apply their own particular variations of the law. Bavaria, for instance, is cracking down the hardest with even a ban on smoking in beer tents in addition to pubs and restaurants, which will no doubt have a portion of the Oktoberfest faithful loitering outside in the cold while non-smokers enjoy increased elbow room inside.
In the states of Saarland and Saxony, small corner pubs with a regular clientele can chose whether to impose the ban, provided the owners have no employees.
The self-application also stretches to the punishments. Many states, like Berlin, won't enforce fines for breaking the rules until a few months have passed. In the capital, those thumbing their nose at the ban will be able to do so until June. After that they will get slapped with fines of around 100 euros ($147). The bar owners have their own incentive to drag ban-breakers into line – they themselves will be liable for fines of up to 1,000 euros if someone lights up in their premises after enforcement comes in.
In Saxony, after the law is introduced in February, bar owners may face fines as high as 5,000 euros, while those in Hamburg or Thuringia will face a maximum of 500 euros.
A challenge to the bans
While Germany now appears to be a paradise for non-smokers rather than the haven for smokers it has been for decades, those with a habit will still be able to puff away in smaller closed-off sections in restaurants and bars. This has been held up by health campaign groups as evidence of the ban not going far enough as bar workers in these smokers' rooms still face health dangers.
Despite this concession, Germany's restaurant industry has claimed that many businesses in the states that have already introduced the ban have suffered sharp falls in profits. The German Hotel and Restaurant Association (DEHOGA) says the ban has deterred people from going out for a drink or something to eat. It claims 15 percent of those who adopted the measures in 2007 saw turnover fall by around 50 percent.
A group of bar owners are even collecting funds to mount a legal challenge against the bans before Germany's federal constitutional court, alleging a breach of basic rights.