Twenty-five years ago, East Germany was full of imposing concrete structures symbolizing the might of the communist government, but there was one problem: the money had run out.
Today, a quarter of a century after the Berlin Wall fell, that region has been reinvigorated. Trillions of euros have been pumped into rebuilding decrepit buildings, repairing pot-holed streets and investing in new companies.
The results are obvious. Today, the region once known by its acronym, GDR, for German Democratic Republic, has brought its economic performance and living standards up to par with those of Spain and Italy, according to a new study by Germany's KfW Group, a reconstruction loan company.
While unemployment and dwindling populations remain a major hurdle in eastern Germany, the discrepancy between the economies of East and West Germany that was once so apparent has virtually disappeared.
"The new states have accomplished an historic economic upswing," said Jörg Zeuner, head economist at KfW Group. "Per capita growth in the last 25 years has paralleled that of post-war Germany's economic miracle."
A second economic miracle
The success story began only days after the Berlin Wall had fallen and East Germans were pouring over the once inaccessible border in droves. According to the minutes from a meeting at KfW Group on November 16, 1989, experts were already beginning to draw up plans for getting the East German economy up to speed.
"The question was never whether we would help the people in the GDR, but how," said Ulrich Schröder, chairman of the board at KfW Group.
In the next two and a half decades, KfW Group and other investors would spend 1.6 trillion euros ($2.02 trillion) fixing up apartments, repairing out-of-date infrastructure and sponsoring businesses.
The former East has recovered from its time behind the Iron Curtain better than any other former communist country in Central Europe.
In 1989, productivity levels in the former East Germany were one fourth what they were in the West. Today, they are steady at 76 percent. And that is despite only 10 percent of all manufacturers with more than 500 employees being located in the old East.
"No country is completely balanced," Zeuner said of regional economic differences that are apparent all over the world.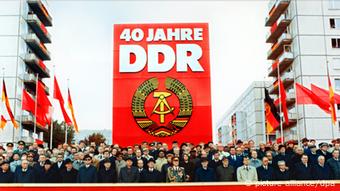 "From an economic perspective, the eastern German states have achieved what the GDR never could," a study read.
Regional disparity on par with G7 nations
But just because eastern Germany lags behind western Germany in terms of productivity does not make it unproductive on an international scale. Manufacturing, arguably the industrial sector with the highest levels of productivity, accounted for 17.3 percent of eastern Germany's GDP. Among G7 countries, only Japan and Germany on the whole had higher levels.
In terms of the economic discrepancy between its regions, Germany is on par with G7 member Canada. In terms of per capita gross domestic product, eastern Germany ranks right around the halfway mark in Europe.
From 1991 to 1997, per capita GDP grew in eastern Germany at a rate of 60 percent - a level comparable to the growth seen in West Germany from 1950 to 1956 during the so-called post-war "economic miracle."
By 2013, per capita income in eastern Germany had reached 17,700 euros - 84 percent of what westerners made. Factor in a lower cost of living in the old East, the nominal income level reaches 89 percent of that in western German states.
That is not to say that the poorest western German hamlet is more prosperous than even the richest eastern German city. Quite the contrary is, in fact, true. There are a number of towns around Berlin, Saxony and Thuringia that have more robust economies than in structurally weaker regions in the West, such as Lower Saxony or the Ruhr Valley.
"Realistically one cannot expect more," the KfW Group study read. "From an economic perspective, the eastern German states have achieved what the GDR never could."