Germany's Federal Migration Office (BAMF) has been accused of severe security flaws after it was revealed that officials failed to detect counterfeit passports used by refugees entering the country.
According to a report by German public broadcaster RBB, the attorney general for the state of Brandenburg, Erado Rautenberg, is now seeking to seize around 18,000 records from BAMF.
Rautenberg reportedly wants to investigate a number of cases from the end of 2015 in which, due to time and personnel constraints, refugees arrived in Brandenburg without being properly identified.
"I want to know who is here," Rautenberg told the broadcaster. "And if something were to happen, I do not want to blame myself for not having done all I could have to prevent it."
The broadcaster also reported that numerous fake passports were seized in the southern German state of Bavaria. The passports were previously deemed legitimate by the asylum office. Some 3,300 more passports are also being reanalyzed in the north-eastern state of Mecklenburg-Western Pomerania.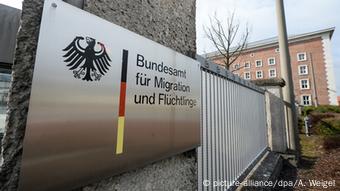 Germany's Federal Migration Office (BAMF)
Bavarian Interior Minister Joachim Herrmann weighed in on the matter, saying local authorities in his state had seized a random sample of migrant passports and that a "significant portion" of them were reported as counterfeit but had not been detected by BAMF.
Herrmann launched a staunch criticism of the Federal Migration Office.
"I cannot understand why the office, which should carefully analyze each and every passport, is unable to distinguish these fake passports," he said. "We cannot accept this given the current situation and security in our country."
Herrmann also said that all German states should plan on how to tackle the issue. "I want to discuss this problem with federal Interior Minister de Maiziere in the coming weeks, because this is simply not acceptable," he added.
The head of BAMF, Frank-Jürgen Weise, defended his office, saying that migration processes were becoming more efficient.
Merkel's migrant policy under fire
Herrmann's comments are expected to put increasing pressure on German Chancellor Angela Merkel. Her open-border refugee policy has caused a rift between her Christian Democratic Union (CDU) party and its sister party in Bavaria, the Christian Social Union (CSU).
The CSU leader, Horst Seehofer, has called for stricter migrant policies, including an annual cap of 200,000 refugees. Merkel has repeatedly ruled out any such policy.
Since the summer, the security situation in Germany has become increasingly tense. The so-called "Islamic State" (IS) claimed two attacks in July - one on a train near Würzburg and another at a music festival in Ansbach. In October, German security forces arrested three Syrian men in northern Germany on suspicion of being sent by IS to carry out an attack.
dm/sms (Reuters, AFP, dpa)