While the number of atheists doesn't necessarily increase when economic times get tough, the number of people contributing to church coffers drops. In Germany, the Catholic and Protestant churches rely on taxpayers contributions to keep them afloat.
In 2000, they received a total of €8.8 billion ($11.1 billion) in "church tax" revenues, that is 9 percent of the income tax that Germans pay the state. But that was before the recession, and now churches are facing hard times. Income from church tax, which was €8.5 billion in 2003, has been dropping steadily for three years and officials expect the trend to continue.
"The church's decreasing income and increasing expenses have led to a clear deficit," Cologne's Archbishop Joachim Cardinal Meisner told church members in early October.
Fewer Germans in the pews
The church tax revenues are funneled to the religion to which the taxpayer belongs, though not every religious denomination has applied or gotten approval to collect the funds. With about 26 million members each, the lion's share of the money goes to the Catholic and Protestant churches. Together their parishioners make up just under 64 percent of Germany's population. However, just one-third of Catholics and one-fourth of Protestants pay church tax, while children, pensioners, low-earners and the unemployed are exempt.
"Financially, it is a tense situation," Matthis Oelke, a spokesman for the state of Saxony's Protestant churches, told DW-WORLD. "We need to find ways to make changes to the church structure without jeopardizing the services we offer the congregation."
Religious congregations around Germany are getting smaller and smaller. Even though weddings, funerals and baptisms and other religious ceremonies can only be performed in churches if those involved are tax-paying members, 432,000 Germans took their names off church registers between 2001 and 2002.
Topping off collection baskets
Dwindling funds mean church officials are looking for new ways to make money. The Catholic Church estimates that every third church in eastern Germany needs to be renovated -- and many of them suffer from structural damages that need more than bake sales and car washes to pay for renovations.
More and more churches are hiding cell phone towers in their spires and selling advertising space on scaffolding as ways to help fill the collection basket. But sometimes their efforts aren't enough.
Concerts keep churches open
In 2003, Germany's Catholic Church published a list of alternatives for churches caught in financial difficulties. Offering a place for concerts and other non-religious events, moving religious ceremonies to other churches to save on expenses and selling the church to secular organizations or individuals were all ways to keep churches from being torn down.
"The sale of a church can only be the very last possibility," according to Dominik Schwaderlapp, the Cologne archbishop's general vicar, in a press release published on the church's Web site.
Even when churches need to be closed for financial reasons, officials would rather see a church turned into an architect's office that keeps the spire standing -- as happened to the Church of the Three Kings in the Cologne suburb of Rondorf -- instead of a parking lot, which was the fate of Berlin's Martin Luther Church.
Are churches really poor?
Investors have good reason to take a look at holy ground. Whether massive metropolitan cathedrals or village chapels, some 35,000 church spires rise above German towns, and the buildings cover some 6.8 billion square meters (73.2 billion square feet) of land, parts of which sit in highly profitable city centers.
The churches could sell €150 billion worth of real estate if they wanted to, according to Carsten Frerk, author of "The Finances and Fortunes of the Churches in Germany."
He estimated that the churches -- which are extremely adverse to allow glimpses into their books -- have a total of between €350 billion and €500 billion in assets, much of which, however, lies in impossible to sell cathedrals and art treasures.
Church lay-offs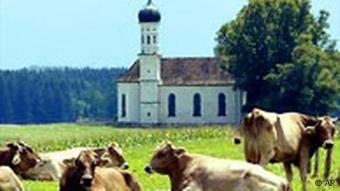 Churches of all sizes are funded by church tax
Though it's unthinkable that the Catholic Church would sell the Cologne Cathedral or that Protestants would agree to closing the Wittenberg Castle Church where Martin Luther set off the Reformation, both the Catholic and Protestant churches, which with 1.3 million people working for them are Germany's largest non-state employers, are following the footsteps of large German companies and letting go of staff to save money.
"It's never an easy situation when people are let go, but there is no alternative," Stefan Förner, a spokesman for Berlin's Catholic Archbishopric told DW-WORLD. "We have to do it to be able to continue our work at all."
In a similar situation, the Catholic diocese in the western city of Aachen announced its plan to save €60 million by 2008 would eliminate 370 of its 1,162 positions, with 150 of the cuts coming before the end of 2004.
After the German Ministry for Labor and Economics on Monday lowered its 2005 growth forecast, saying a prayer and lighting a candle might be all that's left for the churches' recently unemployed.