The measures would apply to electrical and mechanical engineers from the 10 nations that joined the European Union in 2004, the German labor ministry said in a statement on Wednesday, Sept. 19.
Engineers from the mainly southern and eastern European nations will be allowed to work in Germany from Nov. 1, if the cabinet's decision is approved by parliament next month.
The cabinet also decided that students from the new EU member states who have completed high school in Germany would be allowed to work in the country.
Major skills crunch
The measures are aimed at plugging a major skills shortage in the country which is estimated to cost Germany more than 20 billion euros ($28 billion) this year, according to a study commissioned by the German economics ministry last month.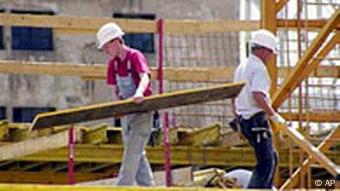 Britain hasn't shied away from letting in workers from the new EU member states
Unlike countries like Great Britain, which opened its labor market almost immediately to nationals from the new EU member states, Germany imposed a two-year work restriction on them in 2004. Last year, the German government extended this restriction for another three years due to fears of being flooded by cheap labor.
The decision was sharply criticized by German business and industry leaders who have for years complained of a lack of qualified professionals in critical hi-tech sectors and warned that a thin workforce could seriously undermine the country's economic competitiveness in the long run.
The German economy, the biggest in the euro zone, is experiencing a robust recovery after years in the doldrums and companies have begun a hiring offensive.
The skills crunch is especially acute in engineering, the metal and electronics industry and the services sector. Experts estimate that Germany currently has a shortage of 20,000 to 40,000 engineers.
An annual survey published by the Organization for Economic Cooperation and Development (OECD) pointed out that for every 100 German engineers who are about to retire, only 90 freshly qualified ones enter the market.
Topping German education levels a problem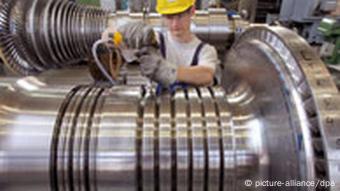 There aren't enough young German engineers to replace those who retire
Though experts welcomed the moves to ease access to the German labor market for engineers from eastern Europe, some warned that it will take more to tackle the problem.
Carola Feller of the German Engineering Federation, VDMA, pointed out that some classical immigration countries had a much better image than Germany. German attempts to lure qualified professionals are also not especially attractive, she added.
So far, skilled professionals can only come to Germany if they can prove they earn an annual salary of 85,000 euros -- a figure that experts say is unrealistically high.
"There's a big question mark over whether it will really ease the problem," Feller said.
She admitted that education levels at high schools and colleges in eastern Europe are relatively good and that there are few problems with the German language since English is often the norm in the engineering sector.
But Feller also warned it would be difficult to top the high quality of basic engineering courses taught in Germany.
"If the students [from eastern Europe] are fit in theoretical knowledge, if they can manage to analyze and solve problems -- only then is it likely that a company will be interested in them," Feller said, adding that the average quality of engineering graduates in Germany was very high.
Getting the best brains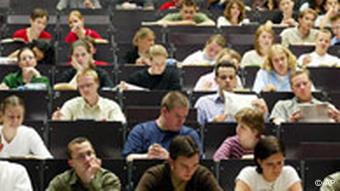 Some experts say it will be difficult to top the high level of engineering courses in Germany
German Labor Minister Franz Müntefering said on Wednesday that, in light of the glaring lack of skilled labor, the government planned to create a special commission to look into the problem and make recommendations.
He also said the government was working on a points system that would in future apply to all qualified professionals interested in securing a job in Germany.
"Those who best fulfill various criteria such as age, language, theoretical and practical qualifications will receive a permanent residence permit," Müntefering told German daily Passauer Neuen Presse.
Sven Renkel, spokesman for the Association of German Engineers, VDI, said the points system was a step in the right direction.
"It's good if we can get the best brains for Germany," Renkel said. "But it's not a panacea."