Never before in the history of post-war Germany has a finance minister taken on more debt. Due to the impact from the global economic crisis, the German parliament on Friday approved Finance Minister Wolfgang Schaeuble's record new borrowing figure of 80.2 billion euros ($109 billion) for 2010.
This is double the amount borrowed in 2009, but the government insists there is no other way to deal with the fallout from one of the biggest global economic crises in history.
"None of us have any experience with such a dramatic economic meltdown," Chancellor Angela Merkel told parliament earlier in the week.
The German economy contracted by 5 percent last year, the biggest drop in its post-war history. As a result, social security contributions fell and social benefit payments increased, tearing a hole in the government's coffers.
Herculean task
In total, the government will spend 319.5 billion euros this year, 16 billion euros more than in 2009. The lion's share, about 45 percent of the budget, will go towards labor, employment and social benefit costs. Interest payments on existing debt is in second place with nearly 39 billion euros, defense spending follows with just over 31 billion euros.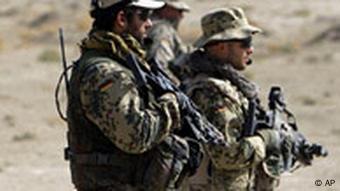 The mission in Afghanistan is responsible for eating up a large chunk of the budget
From 2011, Schaeuble plans to tighten the belt in an attempt to reduce the budget deficit by 10 billion euros a year until 2016. He did not, however, specify how that target might be met. The cost-cutting regime is aimed at bringing the budget deficit to within 3 percent of gross domestic product (GDP) by 2013, as stipulated in the EU's Stability and Growth Pact.
Last year, Germany passed a bill to introduce a so-called debt brake, a controversial concept that foresees a further reduction of the budget deficit to just 0.35 percent of GDP by 2016. In addition, the 16 German states would not be allowed to take on any new debt from 2020.
The debt brake concept has been widely criticized by economists in Germany, who are worried that such a strict regime, apart from being unrealistic, will inevitably stifle new investment by the government, which could jeopardize a sustained economic recovery.
The government has admitted the concept will not be easy to implement, Merkel has described it as a 'Herculean task'.
EU Commission criticism
The European Commission, meanwhile, has criticized Germany for taking on too much debt and for not giving any specific details about how their debt brake plan will work.
In a report published on Wednesday, the Commission accused Germany, as well as the UK and France, of being too optimistic about economic growth in the coming years.
The Commission argues that, if GDP turns out to be lower than expected, governments will have little leeway to reduce their deficits by other means. In essence, the Commission wants member states to put more meat on the bones of their savings plans.
Currently, with the exception of Bulgaria and Estonia, none of the 14 member states covered in the Commission report, adhere to the Growth and Stability Pact.
ng/apn/dpa/Reuters
Editor: Susan Houlton