Ride sharing apps are experiencing rapid growth around the world. And that's no less the case in Europe, where services like Uber have gained significant market share in cities like London and Moscow. Yet at the same time, in other parts of Europe – namely France, Holland, Germany, and Spain – Uber and similar services are facing major resistance – and in some cases outright bans.
Especially in Germany, opposition by taxi drivers' unions to car sharing apps is deep and trenchant. The unions are particularly opposed to Uber, and have declared war on the U.S. company's dynamic pricing algorithm, which adjusts the per kilometer rate taxi passengers pay depending on demand for taxi or Uber rides. When demand is high, trips generally increase in price; but when demand is low, trips that are currently fixed in price would cost significantly less.
German taxi unions were able to convince a court in Frankfurt to ban Uber's service for part of September 2014.
German taxi unions push for continued fixed taxi rates
Richard Leipold, a Berlin taxi dispatch owner who heads the anti-Uber campaign, argued that fixed prices for taxi and delivery services assure a high level of service and accessibility.
"Society decided that prices for buses and the subway should be fixed," Leipold said. "Regardless of whether the body operating those services is a government or a private entity. That means, in Germany - like in England - the government wants the customer to have a guarantee that prices won't skyrocket when demand is high."
Leipold and his group say that Uber is acting as a market maker - like eBay - when it's really a taxi operation, like his organization. For this reason, he wants Uber to add its independent drivers to its payroll as full-time employees in order to "make competition more fair.
But Fabien Nestmann of Uber said his company's innovation has made it an unfair target.
"It's true that some people perceive Uber as a threat," Nestmann said. "But unfortunately that's common for disruptive technologies and business models that break open existing structures. This does bring out opposition by traditional industries."
In cities like Berlin, Uber has partnered with taxi companies that employ drivers on a full-time basis. Though the prices are exactly the same as with any other taxi on the street, Uber users book and pay for their rides through the app. Some drivers like Cakir Süleyman, an employee of Türkis Taxi GmbH, say they prefer this method to accepting cash.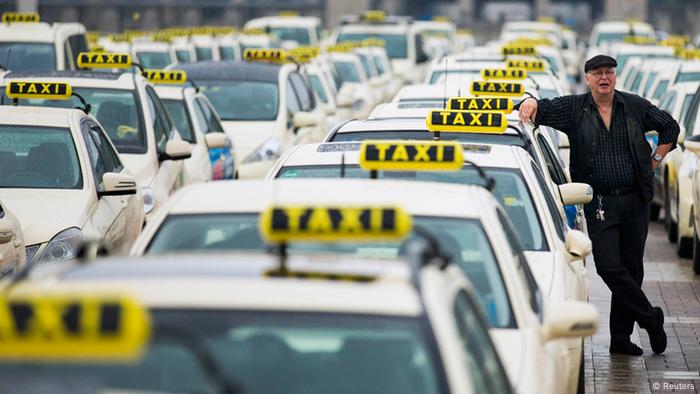 Taxi unions are worried about Uber's market impact
"I know there's a lot of resistance among taxi drivers and passengers to Uber," Süleyman said. "But I like it. It makes the pickup and payment process more organized."
German competition watchdog says taxi market needs to liberalize
If there's a mediator in this battle between Uber and German taxi unions, it's Klaus Holthoff-Frank of Germany's so-called Monopolies Commission, an independent expert committee, which advises the German government and legislature in the areas of competition policy-making, competition law, and regulation. He says Germany's taxi market is effectively a monopoly riddled by inefficient rules.
"Let's say you take a taxi to Berlin's Schönefeld Airport," Holthoff-Frank explained. "The taxi is technically leaving the city of Berlin. Under current rules, that taxi has to return to Berlin empty - it can't pick anyone up from the airport after dropping off a passenger. And the reverse is true: if someone from Brandenburg brings someone to Berlin, he or she has to return to Brandenburg before he can pick up another guest."
Holthoff-Frank feels that taxis should use Uber or other apps to avoid traveling empty. But the taxi unions are against the plan, Holthoff-Frank said.
"This taxi issue is a good example of how in Germany, you're seeing massive resistance against new technologies like Uber or Wundercar," Holthoff-Frank explained. "Vested interests basically just want them banned."
Another point of contention centers on who can have a taxi driver's license and how hard it should be to get one.
Tech companies failing to earn a "social licence to operate"
But Katherine Teh-White, of global management consultancy Futureye, says that there's another kind of license that car sharing – and indeed many other new tech businesses – might want to consider: a social licence to operate.
"New businesses actually have to establish a social license to operate," Teh-White said. "This is the agreement by society or a community that an organization's practices and products are acceptable and aligned with society's values. If society begins to feel that an industry or company's actions are no longer acceptable, then it can withdraw its agreement, demand new and costly dimensions, or simply 'cancel' the licence. And that's basically what you're seeing in Europe and other parts of the world with Uber."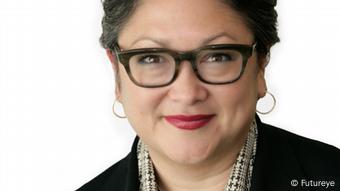 Katherine Teh-White says a social licence is crucial
Teh-White says that while Uber may have seen quick and high levels of support for its app and business model in Europe, it has yet to earn a social license. But it's not just Uber – tech companies, she says, may actually be lagging behind older corporations in mitigating outrage directed at them and listening to their critics.
"We make this assumption that new companies will have new values," Teh-White said. "We expect them to have values that are adopted from society as of today. But oftentimes, that just isn't the case."
At times, a new company's vision for its business is in conflict with existing standards. Some would say that's a good thing – that this leads to innovation. But Teh-White says tech companies are learning that they need to earn a social license to operate to protect themselves from regulatory hurdles or outright bans.
Germany's anti-monopoly commission, for its part, has suggested a compromise that would allow for the use of Uber's technology and seek to generate additional revenue for taxi drivers.
The compromise proposal would end rules banning out-of-region taxi drivers from picking up passengers at airports. It would also end fixed taxi fares, but impose caps on services like Uber's controversial "surge" pricing system. That system came under fire when Uber raised prices by 400% during the December 2014 Sydney terrorist attack.