The Interior Ministry has confirmed that the introduction of the multi-function card will go ahead as planned on November 1, 2010.
The information printed on the credit-card sized ID will be encrypted digitally. The radio chip also contains a digital passport photo.
Enthusiastic advocate
"I will be getting a new ID card as soon as possible because it simply fits into my wallet a lot more easily," said Interior Minister Thomas de Maiziere.
"It's much smaller than the old one, but it can do a lot more," he said.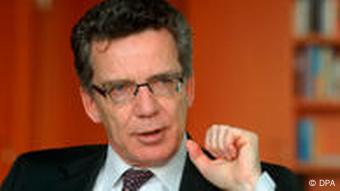 The new German interior minister de Maiziere can't wait to get his card
For example, users can voluntarily choose to store two fingerprints, and to activate an electronic signature function. The latter would allow them to sign sales contracts or make official applications online.
The card can also be used in machines, for example for age verification in cigarette vending machines.
Restricted access
But although the ID can be used to fulfill both official and commercial functions, not everyone will have access to all of the data contained on the card. Owners have to enter a 6-digit PIN number authorizing the release of information.
"Citizens decide which data they want to transmit," said Interior ministry executive secretary Hans Bernhard Beus.
Former Interior Minister Wolfgang Schaeuble had originally called for fingerprints to be made an obligatory feature of the new smart ID cards, unleashing a storm of protest from data protectionists.
Author: Julie Gregson
Editor: Louisa Schaefer