With no tuition fees and its beautiful university towns, Germany is becoming increasingly popular among foreign students. Approximately 300,000 of the country's 2.6 million students come from abroad. Almost half of them stay on for a while after finishing their degrees. The mobility of German students, by contrast, has not increased over the last 14 years, according to a report issued earlier this week by Germany's Ministry of Education. Education Minister Johanna Wanka explains to DW how she intends to promote international academic exchange.
DW: Germany has become the third most popular country among foreign students - a far cry from the situation back in the 1990's. What has brought about such a dramatic change?
Johanna Wanka: Back then, Germany didn't have the same reputation as a top location for science and research that is has today. Over the last few years, we have made huge efforts to improve the standards of our universities and to reach out to foreign students and researchers. Since 2005 the federal government has invested a lot of money in strengthening Germany as an academic hub, while many other countries have been reducing funding. We now offer a greater number of interesting study programs and many students believe that a degree from a German university or college and spending time there will open up better job opportunities for them.
The discussion about how welcoming Germans are comes up again and again. Some German students feel there is room for improvement.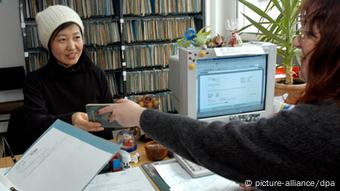 Strong academic programs for free - reason enough for many foreign students to come to Germany
The reality here has become better than our reputation. Especially at universities, a lot has been done to improve the reception of foreign students at so-called welcome centers.
Which countries do most of these 300,000 foreign students come from?
The overwhelming majority of foreign students come from other European countries. The second biggest group is made up of students from Asia. But looking at individual countries of origin, China ranks first, followed by Russia, Austria and India.
How many students are from African countries?
Unfortunately, only 10 percent. That's why my ministry has developed a so-called Africa-strategy in the fields of research and science. What's particularly important to us here is that this strategy aims at establishing a scientific exchange between equals, rather than some sort of development aid. Almost half of the population in Africa is under age 18, and we must do more to attract young people to Germany, but also to establish opportunities there. In the future, Africa will be high on our agenda.
As the number of foreign students is on the rise in Germany, how should German universities deal with the fact that most of them need help with their German language skills, at least at the beginning?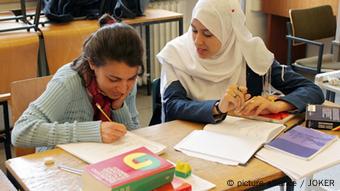 Wanka says many international students are interested in learning German
By offering more courses in English, which is already being done. More than 1,000 master degree courses in English are already being offered at German universities. But our studies show that many of these young foreigners are not only keen on studying in Germany, but also on learning the German language. Quite often, it seems, English gives them an entry to Germany, but after a while they show an interest in German. Both the universities and the Goethe-Institut offer a wide range of German courses.
Roughly one in three German students studies abroad during their studies. In comparison with other countries, that's a lot. However, that number has remained constant over many years. Your goal is to get one out in two German students to study abroad. Don't you need financial incentives for that?
Roughly 30 percent of German students doing a Bachelor's degree spend some time at a foreign university. German students who receive student loans from the government are also eligible to apply for a student loan to study abroad. But there are also many other institutions that offer scholarships, like the German Academic Exchange Service (DAAD), the Alexander von Humboldt Foundation, and the Erasmus Programme.
Why is it so important to you that more German students study abroad and more foreign students come to Germany?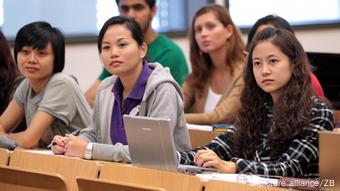 Academia is international, says Wanka
Academia is international. There isn't a single academic field that can afford to seal itself off and exist autonomously in one country. That's why we cannot do without international networking and cooperation. Besides, spending some time abroad strengthens the students' intercultural and linguistic skills, which will help them during their professional careers. A small country such as Germany is particularly dependent on international networking, which means both getting involved in other countries, and getting more people worldwide to develop an interest in Germany so that they will stay with us at least for some time.