Experts believe that while some of Germany's 600,000 Kurdish immigrants give the money willingly to fund its separatist campaign in southeastern Turkey, others are pressured into contributing under duress.
The PKK is an outlawed nationalist Kurdish guerrilla group waging a bloody campaign for self-rule in southeast Turkey since 1974. It took up arms against Turkey in 1984, aiming to create an ethnic homeland in the southeast. More than 30,000 people have been killed in the conflict.
A spokesman for Germany's BfV domestic intelligence services, commenting on the reports, said that the KONGRA-GEL, the PKK's political wing, is blackmailing Kurdish immigrants with mafia-like demands for protection money of one month's salary a year or much more in the case of wealthy businessmen. "In this way they collect millions of euros in Germany every year," the spokesperson stated.
The reports came to light in the wake of violent clashes between Kurds and Turkish nationalists in Berlin, Heilbronn and Mülheim at last weekend. In Berlin, 18 policemen were injured trying to break up fighting between the two sides, after Turkish nationalists held a march in support of Ankara's threat to launch strikes on PKK bases in northern Iraq.
The German intelligence services have since stepped up their surveillance of PKK activists in Germany. They estimate that there are 11,500 PKK members in Germany, of whom 1,000 live in Berlin.
Germany banned the PKK in 1993 after it carried out a campaign of fire-bombings on Turkish and German institutions in Berlin.
PKK activity in Germany intensifies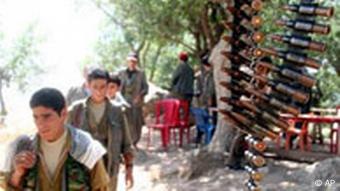 German Kurds are pressured to contribute to the PKK cause
Experts have been monitoring an intensification of PKK activities in Germany, which is home to 2.5 million Turks -- the biggest Turkish community outside Turkey. PKK activity slowed down in 2003 but has gradually been picking up in the four years since, according to reports.
According to German police sources, the PKK is also involved in drug trafficking in Germany and uses the spoils to fund its separatist struggle. Police have confirmed that several investigations have revealed a link between the PKK and drug dealers.
Turkish intelligence services believe that the PKK raises 300 million euros ($430 million) a year and last year spent 15 million euros on arms, notably in Iraq. In April, police confiscated 16,000 euros in banknotes in a raid on 32 suspected members of the PKK in Bavaria in southern Germany.
In recent years, a number of PKK members have been arrested in Germany for securing financing for the group, which has been branded a terrorist organization by Turkey, the United States and the European Union. Last year German police arrested a Turk of Kurdish origin suspected of being the leader of the PKK and KONGRA-GEL in Germany and heading its fundraising and propaganda activities here.
Turkey slams Germany for playing down PKK
However, the Turkish community in Germany has recently accused the country's media of playing down the threat posed by the PKK.
Germany's largest Turkish-language newspaper, Hürriyet wrote last week that "the German media have a blind spot when it comes to the PKK, referring to repeated descriptions of the organization as "Kurdish rebels," "PKK members", "separatists" and "radical Kurds."
Turkish Prime Minister Recep Tayyip Erdogan also criticized European countries recently for failing to arrest and extradite wanted Kurdish militants to Turkey.
Istanbul has regularly asked countries to do more against the PKK which is considered a terrorist organization both by the European Union and the US.
"Unfortunately no EU country has extradited members of the PKK to Turkey, despite labeling it as a terrorist organization," Erdogan said at a symposium in Istanbul last weekend.
"The fact there has been no improvement shows clearly how sincere our Western friends are on this issue. Erdogan criticized what he called an approach of "your terrorist is good, my terrorist is bad," he said.
Rice in Turkey as fears of cross-border strikes mount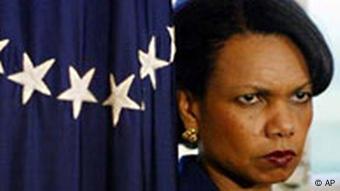 Rice wants to avoid a Turkish incursion into Iraq
Meanwhile, Turkey refused to rule out cross-border attacks on PKK positions in Iraq but tried to ally fears by saying such an attack would target guerrilla bases and not amount to an "invasion."
US Secretary of State Condoleezza Rice arrived in Ankara on Friday to urge Turkey not to destabilize northern Iraq by launching any cross-border military strike. Rice is to meet Turkish President Abdullah Gul, Prime Minister Recep Tayyip Erdogan and Foreign Minister Ali Babacan on Friday afternoon.
"Anything that would destabilize the North of Iraq is not going to be in Turkey's interest," Rice said before arriving for the talks. "It is not going to be in our interest. It is not going to be in Iraq's interest. So that has been the reason for urging restraint.
"The first point that we have to underscore is that Turkey, the United States and Iraq have a common enemy in the PKK," she added. "We want to develop a very effective strategy for dealing with this threat but we are not going to be able to do this without coordination of the three nations."
Bush, Erdogan to discuss PKK strategy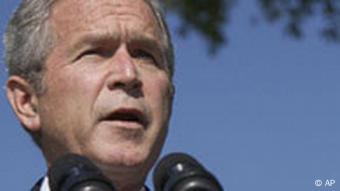 President Bush sees the PKK as a common enemy
Both Baghdad and Washington strongly oppose any unilateral Turkish action in northern Iraq on the grounds that it would destabilize the only relatively calm region of the war-torn country.
US President George W. Bush will meet with Turkish Prime Minister Recep Tayyip Erdogan in Washington next week to discuss cooperation against the Iraq-based Kurdish fighters.
"I look forward to visiting with Prime Minister Erdogan on this important subject as to how we can work together to prevent people from coming out of mountain ranges to do harm to Turkish troops," Bush told reporters on Thursday. "We will have a good, substantive discussion, as you would expect allies to do. And I'm looking forward to seeing him here in the Oval Office."
The PKK uses bases in the mountainous region for cross-border attacks as part of its 23-year campaign for self-rule in Turkey's mainly Kurdish southeast.
Turkey has reportedly massed up to 100,000 troops on the border with Iraq and has threatened a military incursion to strike at the PKK bases unless Baghdad and Washington make good on promises to crack down on the rebels.
Turkish troops have been engaged in major operations targeting the PKK since October 21 when a group of rebels, who Ankara says infiltrated from northern Iraq, ambushed a military unit, killing 12 soldiers and capturing eight. The army says it has since killed 80 rebels on Turkish territory.
PKK calls for peace plan as Ankara announces sanctions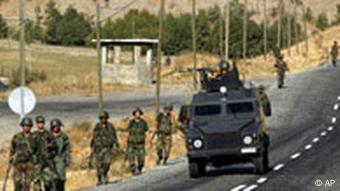 Troop deployments and sanctions put pressure on the PKK
A top PKK commander on Thursday called on Ankara to present a peace plan that could end the group's rebellion, which has claimed more than 37,000 lives since it began in 1984.
Ankara categorically refuses to have any contact with or make any concessions to the PKK.
Turkey increased the pressure on northern Iraq Thursday by imposing economic sanctions that specifically target the PKK and its supporters. Foreign Minister Ali Babacan said that a list of measures had been drawn up and that some had already been put in place but said Turkey would not be announcing what these measures were.
The foreign minister said the sanctions were not aimed at the people of Iraq but were specifically targeted at the PKK and those who support them.