"For a while, I was really proud of my sex work," Nadine said.
Draped in a fluffy black coat, the 30-year-old with the curly blond hair said she was proud of her regulars. "You get 150 euros ($169) for a quickie, and you think: Wow! That is so cool."
Nadine enjoyed the power she had over men and at the same time, she suffered from having to deaden her feelings. But for 10 years, prostitution was the best way she saw to earn her living.
The profit margins be huge: a customer is likely to pay from several hundred euros for a high-priced escort to 20 or 30 euros for street hookers and sex workers in walk-in brothels.
In 2002, the Prostitution Act came into effect in Germany, making the voluntary sale of sex legal.Before then, it was seen as an immoral act and brothel operators could be prosecuted for promoting prostitution. Today, a brothel is a regular, legal business. Sex workers pay taxes, and prostitutes have access to health insurance and social security benefits.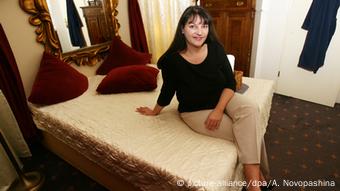 Kerstin Berghäuser runs a brothel in Berlin
In order to pay off debts, Kerstin Berghäuser was a sex worker for eight years. When the Prostitution Act came into effect, she opened her own brothel in Berlin. "I was sure then that I wasn't doing anything illegal," the woman in her mid-forties says. "I wanted to offer the women good working conditions."
A fine line
Germany's prostitution legislation is one of the most liberal in the world.
In the United States, for instance, prostitution is illegal in all but a few counties; in Sweden and France, buying sex is banned and customers are penalized. That is exactly what Germany's anti-prostitution movement demands, pointing out an increase in human trafficking and arguing that many women are forced into sex work. There are, however, no reliable figures for the number of sex workers or for the number of victims of human trafficking.
Social scientist Barbara Kavemann rejected the claim that the Prostitution Act is responsible for human trafficking. "If human trafficking is allegedly on the rise, that's mostly due to the EU's eastward expansion," she said.
In 2004, 13 states, mainly in eastern Europe, joined the European Union. It's legal for people from those countries to travel to and live in Germany. Some anti-prostitution groups have argued prostitution's legal status in Germany attracts both sex workers looking for legal employment as well as human traffickers who force women into the sex trade.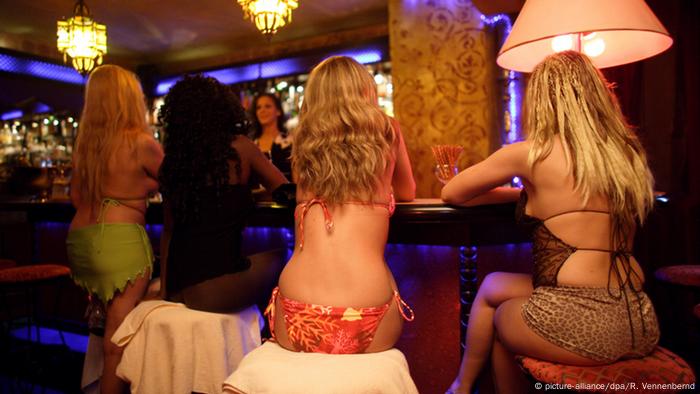 Waiting for customers in Cologne's Pascha brothel
Not a job like other jobs
Paula was expecting to work in a kitchen when she came to Germany. The slender Bulgarian women with long dark hair spoke no German, had no money, and didn't know where to go when she was dropped off at the doorstep of a brothel in what is a clear case of human trafficking.
Paula wept. She said she didn't want to sell her body - but ended up doing it all the same, for five years from 6 a.m. to 10 p.m. The woman who ran the brothel pocketed half of her earnings. Paula flew home and returned to Germany more than once, and always ended up in a brothel again. German laws at the time only permitted Bulgarians to work for themselves and prohibited them from employment in other companies. She has worked as a prostitute for five years and said she found many of the men disgusting and hated her work. She also said she has never had a pimp and was ready to stick up for herself and her rights.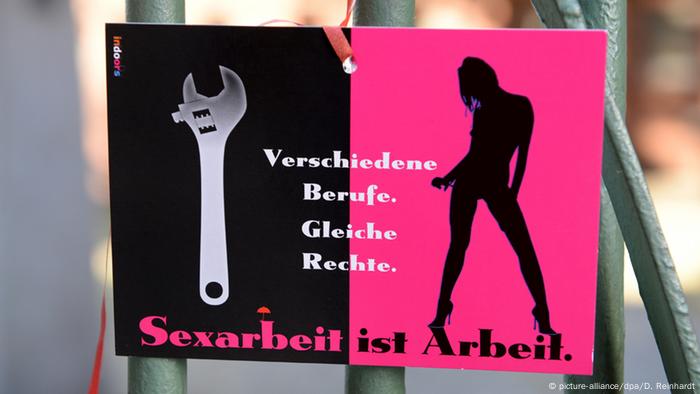 "Sex work is work"
Sex work is not a job like any other. Prostitutes are still scorned and only few women have the courage to say how they make a living. Yet, sex workers in Germany have the right to demand proper work conditions and work safety guidelines.
The German government is currently debating an amendment to the Prostitution Act that would focus on the protection of sex workers, including the obligation for brothel managers to hold a license, compulsory medical examinations and raising the minimum age for sex workers to 21. The law already prohibits forcing people into the sex trade or exploiting them or their work and the German Family Ministry, which is responsible for the draft amendment, said it wants to improve sex workers' ability to steer their own lives and fight crime related to prostitution.
"Not your rescue project"
But experts from the German Aids Service Organization, the German Women's Council and the German Women Lawyers Association (DJB) warn the amendment could enhance the stigma of prostitution, and push sex workers into illegality.
Plans to penalize customers who intentionally target human trafficking victims have met with criticism. Instead, the DJB urges stepping up the protection of victims of human trafficking, such as granting them the residence permits.
Sex workers say they don't want to be patronized and criticize people who talk about them without talking to them.
"It's like the story of the boy scout who helps an old lady cross the road only to find out that it wasn't where she was headed at all," said Johanna Weber of Germany's Federation of Erotic and Sexual Services (BesD). "We keep on saying, No, we don't want to be saved!"