Germany's Eurovision Song Contest hopes were more than dashed on Saturday night; they were thrown to the floor and stamped on by every stiletto and Cuban heel on show at the 50th gala of kitsch in Kiev.
Gracia Bauer, a former talent show also-ran who had courted controversy over her involvement in a chart-rigging scandal just weeks before the competition, garnered a woeful four points with her song "Run and Hide". It seemed like the voters took her words as sound advice as Germany scored one of its lowest totals in the history of the competition.
The dubious accolade of Eurovision winner went to Greece as singer Helena Paparizou thrashed the competition, triumphing over contestants from 23 other countries with her song "My Number One." The news was greeted with scenes of joys in Athens, where hundreds of people celebrated on the streets of the Greek capital.
Greece celebrates Eurovision victory
In Athens, Paparizou fans, who had watched the contest on a giant screen late Saturday in front of the Zappeion palace, went wild when the Greek victory was announced. Brandishing Greek flags, they danced and embraced to the beat of "My Number One," written by Christos Dantis.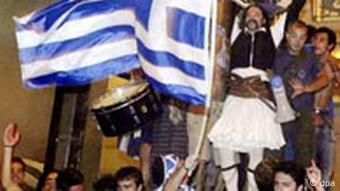 "Many congratulations to Helena," said Athens Mayor Dora Bakoyannis, who was on the scene. "It's a unique moment that we deserve ... Athens is ready to welcome Eurovision in 2006."
Ukraine's President Viktor Yushchenko, who attended the songfest with his family, handed Paparizou the Eurovision award. Yushchenko handed Paparizou a golden trophy inspired by jewels crafted by the Scythians, an ancient people that once inhabited the territory of present-day Ukraine.
"This is a Ukrainian prize for best European song, for Europe's best singer (handed) in the name of a united Europe," Yushchenko said after giving Paparizou a peck on the cheek.
Clad in a short golden dress, Paparizou, who was born and raised in Sweden, gave an energetic performance which included elements of a traditional Greek national dance. Paparizou, who was elected by television viewers from 39 countries, won with 230 points, 38 points ahead of Malta's Chiara, who placed second with the song "Angel." Romania's Luminita Anghel and Sistem placed third with "Let me try."
Controversy surrounds Ukrainian song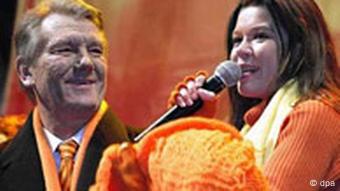 Winner of Eurovision 2004 Ruslana Lyzhychko with Viktor Yushchenko.
Last year's winner, Ukraine's Ruslana, opened the competition with a performance of one of her songs, "Fire".
This year's Ukrainian candidate, the Greenjolly group, placed only 20th. Its selection to represent the former Soviet republic had sparked controversy, as had its choice of song, "Razom Nas Bahato" (Together We Are Many), the hymn sung by demonstrators against former president Leonid Kuchma's regime in Kiev's Independence Square during last year's "Orange revolution."
Greenjolly was largely unknown before the revolution and its last minute choice unleashed an avalanche of criticism of the new government which was accused of manipulating the vote that picked the group.
To deflect criticism, Greenjolly was obliged to modify the lyrics of the song, removing mention of the current president's name.
Song contest a political opportunity
Ukraine's authorities saw the Eurovision contest as a way to showcase the country as 100 percent European, while Yushchenko has made no secret of his hope to see Kiev eventually join the European Union.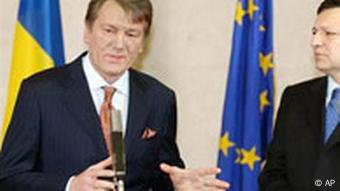 Ukraine President Viktor Yushchenko has European designs
"Ukraine has always been a harmonious component of the (European) space," the Ukrainian leader said a few days before the songfest began. "It has been made up not only by politicians, but also by peoples, their common values, their history and their culture. These days in Kiev, you will be able to feel this once more," Yushchenko said.
The contest was held under tight security, as some 4,000 police stood by to make sure the 50th edition of the annual kitsch-fest did not get out of hand.
Before entering Kiev's Sports Palace, an arena capable of holding an audience of up to 8,000, spectators had to submit to strict security checks and file under a metal detector.
Celebration of kitsch goes from strength to strength
The Eurovision Song Contest, first held in 1956, is often associated with music of questionable merit, bizarre costumes and marked political bias in the voting. Yet all these elements have contributed to its enduring popularity.
Eurovision was a launch pad for the careers of such internationally famous performers as Swedish disco group Abba in the 1970s, or, later, French Canadian singer Celine Dion, who represented Switzerland, where she was living at the time.