The German Economics Ministry on Monday insisted that the country's oil supplies were not threatened by an interruption of flows through the Druzhba oil pipeline, which supplies Russian oil to Germany and Poland via Belarus.

"I view the closure of the important Druzhba pipeline with concern," Economy Minister Michael Glos said. "The current situation is not dramatic for Germany," he said.
"There are sufficient reserves of crude oil at the refineries to ensure supplies even if there is a long gap in deliveries." Glos added, saying he expected deliveries via the pipeline to be fully resumed as quickly as possible.
Russia stops oil exports to Belarus
State television in Belarus, a former Soviet republic, reported on Monday that the transit of Russian crude oil across Belarus to
western Europe had been halted.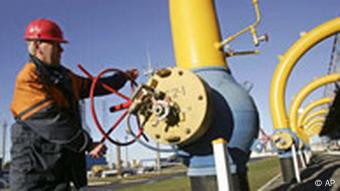 A worker at a gas compressor station near Nesvizh, southwest of the Belarussian capital Minsk
Russia's pipeline monopoly Transneft said on Monday it was forced to act because Minsk had been illegally siphoning off oil from the Druzhba pipeline system.
"The Belarusian side began taking transit oil as payment in kind for a new duty it had illegally imposed," Transneft Vice-President Sergei Grigoryev told the Reuters news agency. "We therefore reduced transit supplies, equal to the amount being taken. We then reached the point where we had to stop supplies completely."
Belarus and Russia, which have traditionally enjoyed close ties, have been locked in a bitter gas pricing row. At the beginning of the year, Belarus slapped a transit tax on Russian crude oil which passes through the country in response to a Russian decision to impose export duties on crude oil that Belarus buys from Russia.
The row over transit fees came just days after Belarus had narrowly averted a threatened cut-off in Russian natural gas supplies by agreeing to a demand by Russian monopoly Gazprom that Minsk pay double last year's price for imported gas.
Germany says consumers won't be affected
Europe is heavily reliant on Russia for its oil and gas and extremely vulnerable to Russian supply cuts.
About 50 million tons of crude oil pass through the Druzhba pipeline each year. Of that, 18 million tons are supplied to Poland and 22 million tons to the German refineries of Schwedt and Mider Spergau.
German Economics Minister Glos said the development "shows once again that a balanced energy mix is imperative" for secure energy supply "and that one-sided dependencies must not be allowed to develop."
Both Germany and Poland have confirmed that oil supplies to some of their refineries have been disrupted due to the Russian interruption of oil exports to Belarus.
The MWV oil supply federation in Hamburg said that "there have been limited pump interruptions on the Druzhba pipeline in recent days."
The pipeline supplies the PCK Schwedt refinery and the MIDER Total refinery near Leuna in eastern Germany.
"The running of the refineries is currently not affected," MWV said. "Nevertheless, as a precautionary move, alternative routes of supply for crude oil are being drawn up, for example, via the port of Rostock."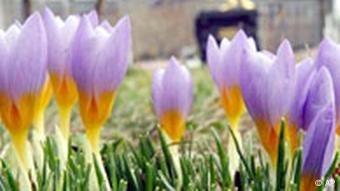 An unusually mild winter means Germans won't be needing too much oil for heating
Supplies to consumers were not in jeopardy, MWV insisted. "There is a crisis system in place to offset any interruption in supply," it added.
A spokeswoman for Total, which operates the Leuna refinery, said that supplies had stopped overnight. "But supplies to customers have been safeguarded and the refineries are functioning," she insisted.
The spokeswoman also said the reasons for the stoppage were not yet clear, but insisted that the refineries had sufficient reserves, even if she declined to say how long those reserves might last.
"We're working on an alternative supply if that should become necessary," she said.
EU demands explanation
The European Union on Monday demanded an "urgent and detailed" explanation for the interruption of oil supplies.
"I would like to underline that there is no immediate risk of the interruption of the oil supply in the short term," said Ferran Tarradellas, the EU executive arm's spokesman on energy issues.
He added that the commission planned to hold a meeting in coming days of the Oil Supply Group, a team of European experts, to consider any measures that may be required.
Tarradellas said that Germany had about 130 days of oil reserves and Poland had 70 days worth.