German Foreign Minister Guido Westerwelle said Thursday that he was expelling four members of the Syrian embassy in Berlin, after two men were arrested for allegedly spying on opponents of the Syrian regime.
Diplomatic sources said there were "clear indications" that the four were guilty of "acts not in accordance with diplomatic law."
The two arrested men were identified as 47-year-old German-Lebanese citizen Mahmoud El A. and 34-year-old Syrian national Akram O. Their last names were withheld under German press guidelines. Westerwelle summoned the Syrian ambassador to discuss the arrests.
"The position of the federal government was made unmistakably clear at this meeting that the possible action against the Syrian opposition in Germany will not be tolerated," the ministry said.
Deadly bomb onslaught
Meanwhile Syrian government forces launched their latest blitz on the city of Homs on Thursday, killing dozens of people, activists said.
Mortar and rocket fire on the city killed at least 63 people, according to the London-based Syrian Observatory for Human Rights, while the opposition Local Coordination Committees said up to 100 were killed. Activists said death tolls were difficult to determine because of the chaos in the city, and their calculations are impossible to verify because of Syria's restrictions on foreign journalists.
Activists say some 400 people have been killed in Homs since Saturday, and that more than 6,000 people have been killed since the uprisings began 11 months ago.
Arab League mulls recognizing opposition
Diplomatic efforts to stop the violence are intensifying, as foreign ministers of the 22 Arab League states prepare to meet in Cairo on Sunday. A senior Arab League official said they would be discussing whether to recognize the opposition Syrian National Council as the legitimate representative government of the Syrian people.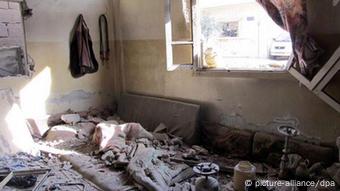 The aggressive bombardment of Homs has killed some 400 people since Saturday
The Arab League is also reportedly planning to revive its observer mission in Syria, nearly two weeks after it suspended the mission because of mounting violence.
UN Secretary General Ban Ki-moon said late Wednesday that his Arab League counterpart, Nabil Elaraby, had asked for UN help with the project. Ban also used some of his harshest words yet against the regime of President Bashar al-Assad.
"Thousands have been killed in cold blood, shredding President Assad's claims to speak for the Syrian people," Ban said. "I fear that the appalling brutality we are witnessing in Homs, with heavy weapons firing into civilian neighborhoods, is a grim harbinger of worse to come."
acb/jw (AP, AFP, dpa)