It wasn't really until the fourth quarter of 2013 that Germany's Word of the Year came into usage. Less so in the mouths of Germans, and more so on their Twitter accounts.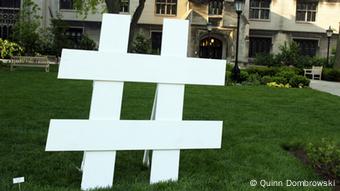 This hashtag sculpture reflects the broad use of what has become a new cultural phenomenon
GroKo - that is, #GroKo - is short for Grosse Koalition, or Grand Coalition, the new political partnership between Germany's two largest parties. After Angela Merkel's center-right Christian Democratic Union (CDU) won the national elections in late September, it took weeks of political tango before they finally agreed to build a government with the center-left Social Democratic Union (SPD).
Negotiations on what exactly that rather unwieldy partnership will tackle and what it stands for are still underway and will probably remain open to interpretation.
Each year, a German Word of the Year is selected that represents the Zeitgeist. Previous words include Stresstest (stress test) and Wutbürger (angry citizen). The jury decision is not based on how often a word is used, but on how important it is for German society.
GroKo will not just be a word for 2013, but will most likely accompany daily German political life until the next election in four years time.