The man's face is beaming. Prijono Sugiarta is the president of PT Astra International, one of the biggest industrial corporations in Indonesia with a workforce of more than 200,000. Astra builds cars through licensing deals, machinery of all kinds, provides financial services and many other things. And business is booming.
"This year is going to be a remarkable record for Astra International. We just announced our third quarter results and our revenue is up by 16 percent, and profit is up by 21 percent."
Read more: German Chamber of Commerce confident about Indonesian economy
Glamorous reception
Sugiarto has invited German economic minister Peter Altmaier to the company's luxurious headquarters in Jakarta. German and Indonesian flags have been raised, a buffet is waiting. The Indonesian minister of industry is there as well. The Indonesians proudly present their training center. It is modeled after Germany's dual education system, a combination of hands-on and academic training. The German economic minister praises the cooperation as exemplary and calls for more partnerships, in the realm of digitization of industrial processes, for example.
Then he rushes on to another appointment with Indonesian president Joko Widodo.
"Open and free market access means an optimized allocation of resources and a better and higher standard of living for millions of people worldwide. Germany is seen as part of the solution, not as part of the problem and therefore there is an increasing interest in cooperating with Germany and German businesses", said the minister.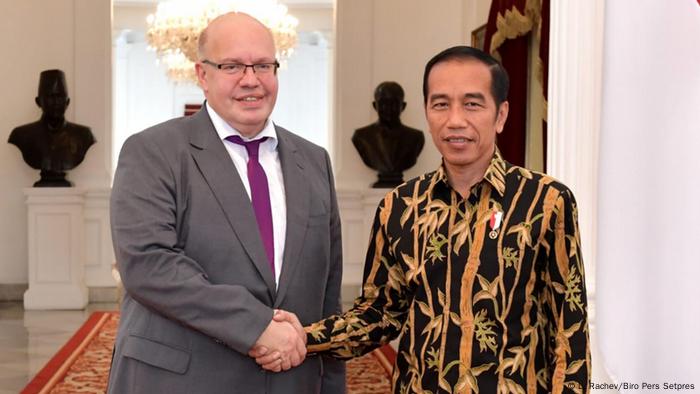 Following talks with Indonesia's president Widodo, Peter Altmaier (left) told DW that leaders of the Asian country fully agreed that free global trade would assure prosperity
Risks and opportunities for the Asia-Pacific region
Many of those in attendance at the Asia-Pacific conference of German business share this optimistic assessment. They have come to the Indonesian capital to talk about market risks and opportunities. Almost 1,000 people attend the conference, among them Siemens CEO Joe Kaeser and Deutsche Post CEO Frank Appel, as well as ministers from Vietnam, Australia, Thailand and the Philippines. National protectionism is clearly being rejected throughout the discussions.
But China is protecting its markets as well, and so does Europe, one Indonesian participant points out. "Ninety-nine percent of our market in Germany is open, anyone can invest here", counters Hubertus Lienhard, Chairman of the Asia-Pacific Committee of German Business.
The German managers seem a bit tense. Business is getting more challenging, that much is clear. But overall, growth continues in Asia. According to statistics compiled by the International Monetary Fund (IMF), "the region accounted for nearly 34 percent of world gross domestic product in 2017" and continues go grow.
Clas Neumann, Head of SAP Labs agrees. He lives and works in Shanghai but frequently travels to the company's other offices throughout the region. The German software company already has more than 24,000 employees in Asia.
"Our business is growing in Asia-Pacific, more than in the rest of the world. That means that the region is becoming more and more important for SAP", he says and explains how his company tries to integrate the Asian innovative spirit into its own corporate culture. "We offer select startups the opportunity to work with us for a year and to develop their applications. That can be in Bengaluro, Shanghai or elsewhere in Asia."
In fact, Indonesia is alone in already having four so-called Unicorns – young digital companies valued at over $1 billion (€875 million). German managers are sometimes stunned by how open Asian consumers are to digital solutions.
E-commerce is developing rapidly and the heavy use of social media is widespread. You can see that every day in Jakarta. When night falls, thousands of motorcycles gather at small food stands. The drivers wait for take-away food that they then deliver. The food has all been ordered and paid for online.