German President Horst Köhler called on Germans this week to be more alert following the most recent incidents of two parents killing their children in separate cases over Christmas.
In one a father in Munich killed his eight-year-old son before suffocating himself with a plastic bag. In the second, a mother admitted to killing her infant sons after the grandmother found the children, aged two and three, dead in the bath.
President Köhler has weighed in the debate over providing better care for children
"We need to be attentive to children, particularly in the hearts and minds of adults," Köhler told German newspaper Frankfurter Allgemeine Zeitung on Friday, Dec 28.
"Do we want to accept that a child starves or has to suffer behind closed doors in Germany?" Köhler said.
Fear of social isolation
That question is plaguing Germany and has now turned into a national debate about how Germany cares for its children and how large a role the government can and should play in protecting them.
The soul-searching was reflected in the results of a recent survey aimed at identifying Germans' biggest fears for the future.
Conducted by the Foundation for Questions of the Future based in Hamburg, the representative poll found that the number of Germans who pinpointed hostility against children as the biggest concern for the future had almost doubled in the past eight years -- from 22 to nearly 40 percent.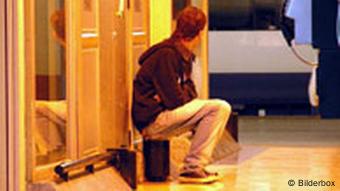 Germans fear being socially isolated
The same study showed that social isolation is the biggest fear among Germans. 58 percent of the population is worried that it's growing, up from 52 percent in 2003 and only 42 percent in 1999.
The survey, which was conducted in nine European countries, quizzed 2,000 Germans aged 14 and above on their fears.
"In comparison to other countries, Germany unfortunately leads the way (in the two fears)," head of the foundation and researcher Horst Opaschowski told news agency dpa. "On a personal level, the Germans largely long for trust, affection and human warmth."
Germany "deeply shaken"
The Christmas child murders aren't the first to rock the country. Earlier this month police found the bodies of five brothers, aged three to nine, in a home in the northern hamlet of Darry after their 31-year-old mother confessed to a psychiatrist that she had killed them.
In Plauen, near Chemnitz in eastern Germany, another woman was arrested after the gruesome discovery of the bodies of three babies in her home. She told investigators they had each died shortly after birth at different times over the past years.
"These incomprehensible cases leave us deeply shaken," Chancellor Angela Merkel said in a recent newspaper interview.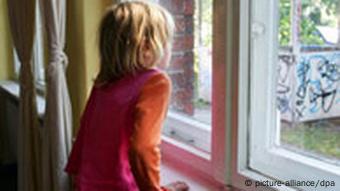 Cases of child abuse and neglect have risen
The federal crime office says that statistics show the number of children killed at home was not on the rise overall. But reported child-abuse cases had climbed to more than 3,000 in 2006 from about 1,900 in 1995.
German newspaper Süddeutsche Zeitung reported recently that between 80 and 100 children die in Germany each year from neglect and abuse. Authorities removed about 170,000 children and teenagers from their parents' homes in 2006 and placed them in state care.
Boosting preventive measures
The incidents of abuse, neglect and killing of children have forced the government to take action. The Social Democrats have spoken of enshrining children's rights in the Constitution.
Last week, Merkel called a crisis meeting with the heads of the 16 federal states to launch a raft of measures aimed at preventing families from falling into the desperate situations believed to be at least partially responsible for some of the abuse and crimes.
They approved a package that allows authorities to take swifter action when abuse or neglect of a child is suspected. It also includes regular checkups for babies and toddlers and obliges doctors to report suspicious cases.
In addition a national database is to be created that will compile information from social welfare offices, family courts, health care providers, child protection services and the police.
The integrated database will enable authorities to form a more comprehensive profile of each family, and better access the risk of violence for children at home.
Growing poverty to blame
Though Germany has moved to pass child-friendly measures such as increasing benefits for stay-at-home parents and increasing kindergarten capacities, it's widely believed that the worsening situation is connected to the unpopular labor market reforms known as Hartz IV. It reduces the amount of time in which people can receive unemployment benefits.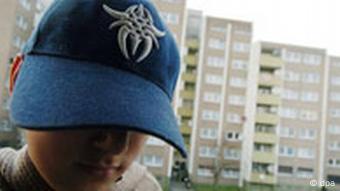 Growing poverty has aggravated the problem of child abuse and neglect
The non-profit Children's Charity of Germany said in a recent report that the number of children dependent on some form of social assistance had doubled to 2.5 million since the Hartz IV reforms went into effect at the beginning of 2005.
"[Charities] and poverty researchers like me warned that this labor market reform would be a slide into poverty and that children would be those mainly affected," Christoph Butterwegge, a political scientist in Cologne said in an interview with the Associated Press.