No, they weren't losing their marbles -- but rivals in the world marbles championship took the dispute out into the pub car park to scrap it out for the crown with 1. MC Erzgebirge, a German team from Neukirchen near Chemnitz, coming out on top after some serious rolling.
A total of 22 teams of six from across Britain and Germany gathered to contest the 2006 British and World Marbles Championship at the "Home of Marbles" -- the Greyhound pub in Tinsley Green, next to London Gatwick Airport over the Easter weekend.
The marbles-mad mob was cheered on by about 200 spectators as they got down to business on the parking lot floor. The mixed teams of all ages and abilities played on a special six-foot (1.83-meter) wide concrete ring covered in sand to stop the little glass balls from bouncing.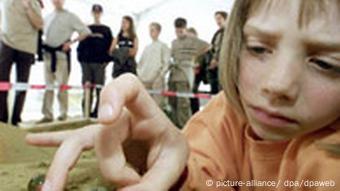 Young and old compete for the world title
"It's all about keeping the tradition of marble-playing alive," said co-organizer Julia McCarthy-Fox. "There is always a bit of friendly rivalry between the British and the Germans, but it is all good fun.
"There is no discrimination in terms of age, gender or skill. It doesn't matter whether you are good at marbles or not. We have people who have played the game for 50 years and others who have never picked up a marble before."
Germans good at holding on to their marbles
The new World Champions brought the total number of titles for German teams to four. The crown went to Germany three times in a halcyon period between 2002 and 2004. The winners get their names engraved on a silver trophy, which is known to hold six pints of beer and has been the prize since 1932.
The county of Sussex, south of London, has a rich marbles history. It is rumored that in 1588, two young men from the county played a game with small, round glass objects for the hand of a young lady. Since then, Sussex has been the home of marbles competitions.