Frankfurt's Goethe University has introduced a three-year bachelor's degree in Islamic studies, the first such course in Germany. The program places Islamic theology on the same footing as Christian and Jewish theology at German universities. The aim is to provide students with an academic and scientific approach to the topic.
It's part of an initiative begun last year to promote the study of Islam and training of imams at German universities. Unlike the other institutions involved, Frankfurt hasn't received any extra federal funding for the program.
In a sign of growing interest in Islam, over a 100 students have already signed up for the first semester in Frankfurt. Germany is home to an estimated four million Muslims.
For many Muslim students, the course is an opportunity to deepen their understanding of their own religion and culture in a rational and scientific manner.
"Normally, we get to hear about everything in our own native language - in mosques or in Koran schools. Now we're finally learning about it all on a scientific level and in German," said Urbe Tschi, a 21-year-old student on the program.
Tschi is familiar with both German and Turkish cultures. He was born in Germany and grew up speaking German, but his parents are from Turkey.
"The program will let us eventually pass on what we've learned to the next generation or to others in society, so that people have better insight into what's actually important to us," Tschi added.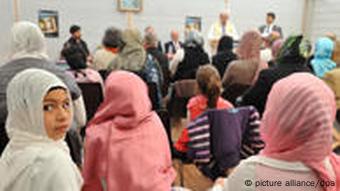 Estimates put Germany's Muslim population at around four million
An insider perspective
The bachelor's program focuses on taking a scientific look at Islam as well as providing an insider perspective by employing Muslim professors.
Abdullah Takim is one of them. He's been teaching Islam studies at Frankfurt's Goethe University since 2007. So far, the subject was part of the Protestant theology faculty.
Takim said the new bachelor's program sets itself apart with its emphasis on Muslim perspectives.
"There are already several programs in Germany that examine Islam from an outsider's perspective – that means it's about how non-Muslims see the faith," Takim said. "But our program on Islamic theology or Islamic studies represents something new because it's about teaching and researching the topic from an Islamic perspective, from the viewpoint of Muslims. And we're linking it with perspectives from the humanities, social sciences and cultural studies."
Most students in the program's first year have Islamic roots, and many of the young women wear head scarves. But Takim stressed that the students don't have to be Muslim to take up the degree course.
"The program is open to anyone who is interested in the subject. But of course, it's primarily Muslims who are most interested," he said.
Most of the first year students expressed similar motivations for registering for the course. They said they wanted to reflect on their religious roots in a scientific way and become more familiar with Islam in the language and cultural context of the country they've grown up in.
"I simply wanted to learn more because I'm Muslim myself," said one student. "But I don't think I know enough about the religion. I hope that I can eventually teach it, perhaps at a university or to children," she said.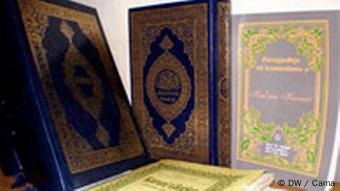 The Koran is at the center of Frankfurt's curriculum
Training young scientists
The Koran plays a central role in the curriculum. The program aims at getting students to reflect critically on the teachings. It includes tracing the Koran to its earliest textual form, its history, interpretation and its relevance today. The course covers the culture, history and theology of Islam.
According to Abdullah Takim, the program will help to cast a new light on Islam in Germany.
"There's a problem in Germany in that Islamic theology has no history. That means we don't have any real representatives of the subject," Takim said. "So the main goal of this program is to train a new generation of young scientists in this area," he explained.
Once they've attained their Bachelor degrees, students will still have a long way to go before they're qualified to teach religion or serve as imams.
But Frankfurt's Goethe University has already announced plans to expand the program in the next years, offering future students a chance to deepen their knowledge about Islam.
Author: Janine Albrecht (gsw)
Editor: Sonia Phalnikar