Klaus Franz, head of the Opel works council, said in an interview with daily Westdeutsche Allgemeine Zeitung on Monday that splitting Opel from its struggling US parent General Motors was the only way to secure the German carmaker's future.
"We cannot carry on like this with GM, the only prospect is disentanglement," Franz told the paper.
Behnam Yazdani, head of the youth wing of the Social Democrats in southern Hesse, also pressed for a split.
"Opel's woes aren't homemade. They have a name -- General Motors," Yazdani told the paper.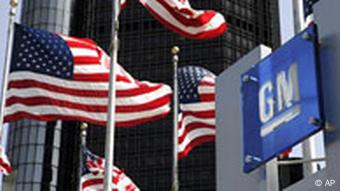 General Motors, which has been overtaken by Toyota as the world's largest carmaker, is riddled with problems
The comments come ahead of a Tuesday deadline for General Motors and Chrysler, two of America's three big carmakers, to submit restructuring plans to the Obama administration in return for their multimillion-dollar bailout.
GM is cutting thousands of jobs and closing plants as the global economic downturn and slumping demand for cars hits what was once the world's largest carmaker. GM is reported to urgently need $5 billion (3.9 billion euros) in new funds to stay afloat.
GM Europe fears for future
GM subsidiaries in Europe, which are struggling with sluggish demand themselves, are fearful of the knock-on effects and potentially fatal cost-cutting.
GM's European brands include Opel in Germany, Vauxhall in Britain and Saab in Sweden. GM also markets its Chevrolet brand in Europe.
On Monday, European labor leaders called for splitting the Opel/Vauxhall from GM brand rather than face being dragged down with its US parent.
"The spin-off of Opel/Vauxhall….and the spin-off of (Swedish brand) Saab is the only reasonable and feasible option for General Motors which would not destroy the European operations and its European assets and could avoid lawsuits," a statement on GM Europe's labor force Web site said.
Berlin pressed to take action
In Germany, where Opel employs around 26,000 people in four plants, Opel management, unions and local politicians have been pressing Berlin to inject capital or offer loan guarantees to save jobs.
On Monday, the Westdeutsche Allgemeine Zeitung said German state governments could buy a stake in Opel to save the carmaker.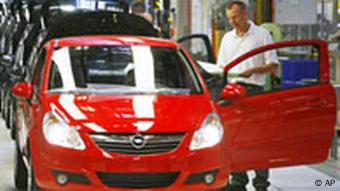 Opel fears GM's restructuring plans could lead to job losses in Germany
One option would be for the states of North Rhine Westphalia, Hesse and Thuringia -- in which Opel has factories -- to take a share in the company as the state of Lower Saxony did in taking on 20 percent of Volkswagen, the paper reported.
But some officials have suggested another tack. The state premier of North-Rhine Westphalia, Jürgen Rüttgers, recently suggested a German-wide fund which could take a share in companies with key significance for the economy during emergencies, the paper said.
Rüttgers is visiting the US this week and is scheduled to meet with GM officials in Detroit on Wednesday.
Separately, German federal and regional government leaders are pressing the White House to extend any US federal aid to European units of GM and Ford.
Chancellor Angela Merkel said at the weekend she was waiting for GM to submit its North American restructuring plan before deciding on any rescue plan.