An online auction of dozens of trophies and other memorabilia belonging to German tennis legend Boris Becker ended on Thursday with the items fetching £687,000 (€764,000, $860,000).
Mark Ford of the London-based firm Smith and Williamson, the lead trustee to Becker's bankruptcy estate, said the items fetched higher bids than a similar attempt last year that was cut short.
"We are pleased to announce that it has come to a close with the total bids significantly exceeding last year," Ford said. "The bids received show the enduring appeal Mr. Becker has with the public and supports the trustees' decision to postpone the auction last year and to hold it again this year during the grass court tennis season."
Last year, an attempt to auction off the memorabilia was blocked when Becker, a six-time Grand Slam winner, claimed diplomatic immunity for his alleged appointment as the Central African Republic's sports attache to the EU.
Read more: 5 obscure facts about Boris Becker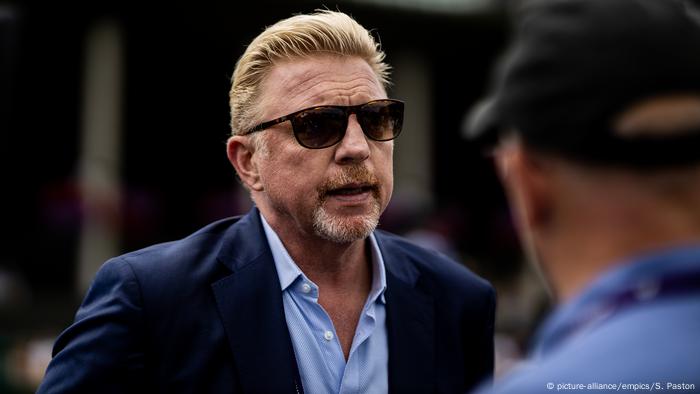 Boris Becker tried to escape his bankruptcy by claiming diplomatic immunity. He later retracted his statement.
'Celebrated hero'
Becker's memorabilia drew in 495 bidders from across 32 countries. Ford said some of the bidders were attending the Wimbledon tennis championships.
Berlin businessman Christian Krawinkel announced that he had spent more than €490,000 ($550,000) in acquiring a majority of the trophies and memorabilia at the auction, including Germany's Bambi "Man of the Year" award for his 1985 Wimbledon win.
"I myself have had some experience with the greed of certain financial institutions and flippant offers from dubious financiers during a period of my life and consider it outrageous that the life's work of a celebrated national hero of sport is tattered," said Krawinkel in a statement on Friday.
Krawinkel said he plans to propose an arrangement with Becker so he can regain the memorabilia.
Becker is known for being one of the best tennis players of his generation, after he won the 1985 Wimbledon men's title at the age of 17.
Read more: Boris Becker: 'Germany is in a tennis boom'
Each evening, DW's editors send out a selection of the day's hard news and quality feature journalism. You can sign up to receive it directly here.
ls/ng (AFP, dpa)