Germany's biggest newspaper, Bild, has been accused of pandering to far-right populist sentiment over a report that allegedly mischaracterized a brochure published by the anti-racist nongovernmental organization Amadeu Antonio Foundation (AAS).
The Bild report from November 29 described a 60-page AAS guide designed to help kindergarten teachers and parents deal with children who had expressed racist sentiments or appeared to be indoctrinated by neo-Nazi ideology. In a story entitled "Row over snooping manual," Bild presented the publication as an attempt to get children to spy on their parents.
In its response to the report, the AAS pointed out that Bild only picked up on the three-month-old brochure after far-right German blogs like Philosophia Perennis and Journalistenwatch had expressed their own outrage. Bild largely repeated the far-right arguments without challenging them, and the AAS says it has received hundreds of threats of violence since the newspaper ran the story.
The brochure, which was co-funded by the Family Ministry, featured advice for parents and kindergarten workers dealing with various actual scenarios: "What to do if a kindergarten teacher is active in the far-right scene? What to do if a child draws swastikas in kindergarten and says this is a good thing at home? How to deal with it when teachers or parents make anti-refugee or racist statements in front of children, or directly attack refugee children or parents?"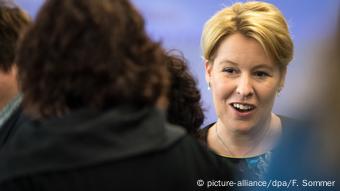 Franziska Giffey defended the guide, which has received support from teachers
Read more: Berlin row over sex education guide for kindergarten teachers
Actual cases
The passage that outraged far-right blogs and Bild the most was the description of a case where kindergarten teachers had to deal with two children of parents who belonged to a local far-right association. "The girl wears dresses and braids, she is directed to do house work at home, while the boy faces strong physical challenges and drills," the brochure said.
Bild quoted Christoph Bernstiel, a parliamentarian for the conservative Christian Democratic Union (CDU), condemning what he considered the implicit association between wearing dresses and braids and being identified as far-right.
The anti-immigrant Alternative for Germany (AfD) also seized on the row, accusing the AAS of promoting "Stasi methods," an allusion to the East German security ministry that terrorized the population of the communist police state. The party tweeted, "Unbelievable! [Social Democratic] Family Minister Giffey has our children spied on. The army of mindset snoopers now infiltrates the kindergarten on its right-wing hunt. That's clearly going too far!"
The AAS rejected this interpretation. "This is a case in which a girl from a well-known right-wing family is described in a certain way," the foundation said in an article on its website. "At no point do girls with braids fall under a general suspicion of being far-right extremists. So don't worry, you can still put your daughters and sons in braids and give them dresses to wear."
The AAS reported receiving hundreds of hate-filled phone calls and emails since the Bild story came out. "We got around 450 hate phone calls in the first 48 hours, threatening with things like terrorist attacks," spokeswoman Simone Rafael told DW. "We haven't counted the number of emails but it was around 500." Bild did not respond to a DW request for comment.
Helping teachers
Family Minister Franziska Giffey, of the center-left Social Democratic Party (SPD), wrote a foreword to the pamphlet and released a statement clarifying its purpose following Bild's report. Giffey also pointed out how much the brochure had actually cost the taxpayer: €4,600 ($5,200) to help with a print run of 3,000 copies.
"The example that was criticized was presented in the context of a concrete case of the phenomenon of 'nationalist settler families,' which has been increasingly seen in certain regions of Germany," Giffey said in the statement. "This is based on true cases drawn from long-term counseling work, where teachers have asked for help with dealing with nationalist families."
Rafael said the AAS has noticed a rise in the "nationalist settler movement" in the past few years, where several families move to rural areas together to raise their children according to National Socialist ideologies.
"The basic principle is: it is not the task of the state to check on how parents live and what they think," the Family Ministry added. "That is not the aim of the brochure. Instead it's about offering help and information for trained professionals. Xenophobic comments and opinions also happen in childcare centers. Children soak them up and pass them on."
The brochure also appears to have gone down well with the professionals it was meant for, according to the AAS. "We have had a lot of feedback from teachers thanking us and saying that the case studies really helped them," Rafael said.