In a move that took just about everybody by surprise, German President Horst Koehler stepped down on Monday, citing comments he made about Afghanistan, which he said had been misconstrued.
A visibly emotional Koehler, with his wife at his side, resigned in a televised press conference, saying: "I am resigning my post as federal president with immediate effect."
"It was an honor for me to serve Germany as president," he said. "I thank the many people in Germany who have put their trust in me and supported my work. I ask for you to understand my decision."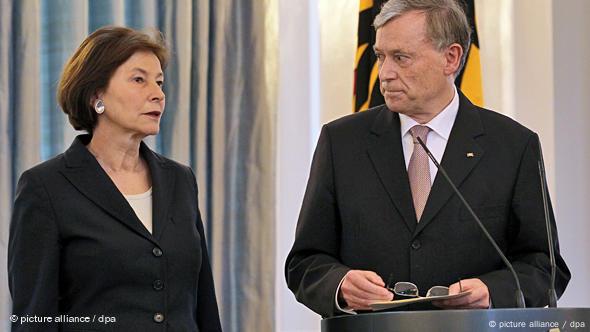 His wife Eva Luise was by his side during the announcement
German Foreign Minister Guido Westerwelle said he "deeply regretted" Mr. Koehler's decision and had tried to change his mind, but the president "decided otherwise."
Bavaria's State Premier, Horst Seehofer, said Mr. Koehler "had won the sympathies of the German people and was widely respected abroad."
The president's resignation caught Germany's political parties completely off guard. Chancellor Angela Merkel was reportedly only informed of the decision shortly before the public announcement.
After she was informed of his decision, Merkel cancelled a planned afternoon visit to the training camp of the German national soccer team, which is currently training in northern Italy for the World Cup next month.
At a press conference in Berlin some two hours later, the chancellor said she was stunned and surprised by Mr. Koehler's decision and had "unsuccessfully tried to get him to change his mind." She also said "the people of Germany would be very sad about the resignation."
Koehler said, besides Merkel and Westerwelle, he had also informed the president of the Federal Constitutional Court, Andreas Vosskuhle, and Jens Boehrnsen, the president of the upper house of parliament, the Bundesrat.
The resignation comes at an extremely inopportune time for the chancellor, whose center-right coalition recently lost an important state election in North Rhine-Westphalia and suffered another resignation of a key ally, Hesse State Premier Roland Koch, just last week.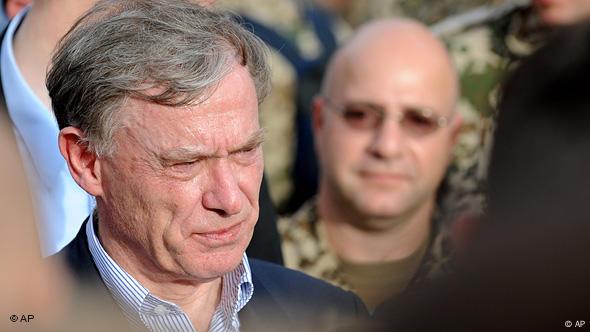 Koehler recently visited ISAF troops
Announcing his decision, Mr. Koehler refused to defend himself against accusations that he would use the military unconstitutionally and for economic reasons, saying that to do so was unworthy of the high office he held.
In the past few days, Koehler had been under fire for saying that a country like Germany, which was heavily reliant on foreign trade must know that military interventions could be necessary to uphold German interests.
Koehler said his comments were "misunderstood" and that his remarks were not meant to refer to the mission in Afghanistan, where Germany has 4,500 troops in a NATO-led force fighting a Taliban-led insurgency.
Polls show that a majority of Germans are opposed to the mission in Afghanistan. But the government has not yet fixed a date for withdrawal from the unpopular mission.
A former managing director of the International Monetary Fund, Koehler was elected to the post of president in 2004 and re-elected in 2009.
According to the German constitution, Boehrnsen will temporarily take over the president's duties. A new president will need to be sworn in by June 30.
gb/afp/AP/dpa
Editor: Rob Turner