German President Christian Wulff has made it clear that he will not be stepping down from his post after it was revealed he tried to suppress the publication of a newspaper article that drew attention to a private home loan scandal.
"I am gladly taking on my responsibilities," he said in an interview aired on Wednesday evening on German public television. "I signed up for a five-year term."
His term is set to end in 2015, and by then Wulff said he hopes "to have a record showing I was a good and successful president."
Wulff said that part of the decision to stay in office was due to the support he had received this week from friends and family. Last month, Wulff came under fire for his lack of transparency regarding a private home loan with the wife of a prominent businessman during his time as state premier in Lower Saxony.
On Monday, it was revealed that Wulff had left an angry voicemail with the editor of the Bild newspaper threatening legal action if a story on the home loan scandal was published.
Wulff said on Wednesday in the interview that he had apologized to Bild editor Kai Diekmann for making the phone call, which was "a serious mistake."
"I know I haven't done anything wrong, but also didn't do everything right," he said.
Bild newspaper contradicts Wulff
Wulff said the call to the Bild editor had been an attempt to delay the story about the home loan by 24 hours to give him time to return from an official visit in the Persian Gulf and respond to the article in Germany.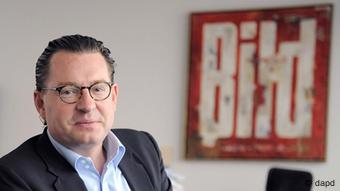 Wulff said the phone call to Diekmann was a "serious mistake"
However, after the television interview, the Bild newspaper contradicted this version of events.
"We had a very different impression at the time," the deputy editor of Bild, Nikolaus Blome, told Deutschlandfunk radio on Wednesday evening.
"It was a phone call that very obviously had the aim of stopping this report," Blome said.
It is not the first time the German president tried to suppress a media report; in June 2011, Wulff is said to have tried to make the Welt am Sonntag newspaper drop a story about his half-sister.
While Wulff said he sees it as his responsibility as president to maintain a neutral relationship with the press, he saw himself at the time as more of a victim than a person who should be presenting a transparent front to the public and answering legitimate questions.
Political response
Wulff's Christian Democratic Union (CDU) welcomed his comments on Wednesday.
"It's good that Christian Wulff made another statement," said the party's general secretary Hermann Gröhe on Wednesday after Wulff's interview. "It was right that he answered the critical questions and cleared things up even more."
"I'm sure that Christian Wulff will win back the trust of the public."
Patrick Döring, the designated general secretary of Chancellor Angela Merkel's coalition partners, the Free Democrats, said Wulff's television appearance was an "important step."
Opposition politicians, on the other hand, slammed Wulff's interview.
"That was not a way out of the situation and will not put an end to the debate," said the deputy head of the Social Democrats' parliamentary group, Hubertus Heil.
"The president's sense of reality regarding the press, reality, and money is warped," said the head of the Left party, Gesine Lötzsch.
Steffi Lemke, general federal manager of the opposition Greens, called on Angela Merkel to give her views on Wulff's comments. Merkel herself has so far remained silent on the issue, but ahead of Wulff's interview, the chancellor's deputy government spokesman Georg Streiter told reporters in Berlin that Merkel "has full confidence that the president will comprehensively answer all remaining questions."
Author: Matt Zuvela (dpa, AP)
Editor: Nicole Goebel