At 38.5 gigawatts of capacity - nearly half of Europe's total of 89 gigawatts - Germany has more solar PV installed than any other nation. With Friday a bright sunny day, there were worries ahead of time about the consequences of the solar eclipse scheduled to occur in the morning. Engineers knew it would cause a massive, sudden drop in solar electricity input - followed by a massive increase when the eclipse came to an end later in the morning.
There had never been such a massive and rapid drop and rapid increase in solar power before in Germany. The eclipse cut off 65 to 80 percent of incoming sunlight, depending on one's vantage point.
The task faced by engineers at Germany's four big electricity network operating companies was to make sure that the resultant huge solar power production fluctuation wouldn't destabilize the grid.
The engineers carefully prepared measures well ahead of time, coordinated all across Germany, aimed at stabilizing electricity supplies by ramping fossil-fuelled power plants up and down, timed carefully to offset the solar eclipse, so as to avoid any sudden voltage fluctuations that might cause the grid to crash.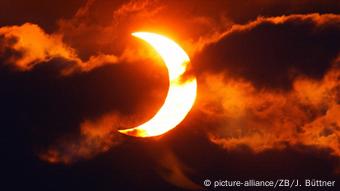 Friday's solar eclipse as seen from Mecklenburg, Germany
One way to deal with the challenge would have been to simply shut off solar power systems - that's how Italy dealt with Friday's solar eclipse; they disconnected 30 percent of solar capacity to reduce their network balancing problem. But that's not how Germany's network engineers approached the challenge.
A system-wide 'stress test'
Dirk Biermann, an engineer at electricity network operator 50Hertz, said the eclipse was a "stress test" for the Energiewende - the country's gradual, massive shift toward renewable energies. The network engineers wanted to show that it's possible to deal successfully with large-scale fluctuations in renewable energy input, whether from sudden increases and decreases in solar energy or in wind power.
On Friday morning, in the hours before the eclipse, solar power production rose steadily as the sun climbed higher into the sky, and the solar power input display curve on the computer screen in the regional network management center in Neuenhagen near Berlin climbed with it.
Then, shortly after 9:30 AM, the display curve bent sharply downward. From 14,000 MW before the eclipse, it dropped quickly to 7,000 MW. So far, so good - the network remained stable.
A while later, with the eclipse ending, the display curve began to reverse itself. "We're at the bottom of the valley," Biermann said. "Now photovoltaic production will rise rapidly from 7,000 MW to 20,000 MW."
Watching the displays, Biermann saw 4,400 MW of solar power added to the grid over the course of fifteen minutes. "This is going to work," he said with satisfaction. In total, an amount of power equivalent to the output of ten nuclear power plants was coming onstream as the moon's disc gradually ended its occlusion of the sun's.
Ramping up, ramping down
To balance out the incoming rush of solar power, electricity output from some of Germany's output-controllable power plants, including gas-turbine and pumped-hydro power plants, had to be throttled back in carefully timed tandem, to keep total power supplies nice and stable - just as they'd had to be ramped up earlier in the morning.
Extra reserves were available to back up the normal automatic systems for steadying the power supply - systems which have been in place for several years, since Germany already gained 26 percent of its electricity from variable renewable energy sources in 2014.
On some days, unusually strong winds can pose challenges to the grid operators, as the turbines pound variable energy into the system. But the wind was docile Friday morning. A calm day with low wind power input made the day's network balancing task easier. Germany has over 38 gigawatts of installed wind turbine capacity, but they were delivering just 500 MW on Friday morning.
By noon, it was all over - and the engineers at the country's four network operating companies were content with the morning's work. "Good preparations paid off, we were able to handle all swings in production," said Ulrike Hörchens, spokeswoman for Tennet, one of the four network companies - the one that manages the highest share of PV input.
The system had passed the stress test.
nz/hg (dpa, AFP, Reuters)