Germany is being ripped apart - at least socially. According to the first-ever poverty atlas released by Der Paritaetische, one of the big five social welfare organizations in Germany, the level of poverty in some eastern parts of the country is up to four times higher than in the south.


The atlas, released on Monday in Berlin, shows that the German region of Western Pomerania leads the nation when it comes to poverty, with more than one in four people there living at or below the poverty line.

On the opposite end of the spectrum - as well as the opposite end of the country - the region of Schwarzwald-Baar-Heuberg has a poverty rate of 7.4 percent.


Call for countermeasures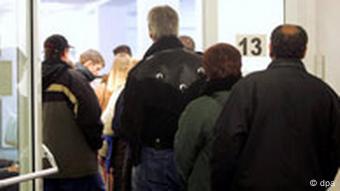 Schneider is calling for unemployment benefits to be raised
Speaking at a press conference, association head Ulrich Schneider criticized the growing regional and social divisions within the country. Many regions, especially those in the east, could easily become dependent on the state to survive, he said, calling for rapid and systematic countermeasures.


Those measures include raising long-term unemployment benefits from 351 euros ($474) a month to 440 euros as well as doing a better job of applying the economic stimulus package to the regions that really need it. Such an increase would cost up to 10 billion euros per year.


The definition of 'poor'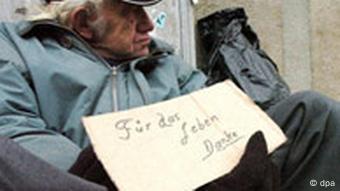 14.3 percent of Germans are said to live below the poverty line
Of course, the atlas begs the question: what does poor actually mean? In Germany, the term applies to anyone who earns less than 60 percent of the average national wage.


For singles that's 764 euros ($1,031) per month, and for couples without children it's 1,376 euros.


It comes as no surprise that the regions the atlas shows as having the highest poverty rate also have the highest level of unemployment.
The poverty rate overall in Germany is 14.3 percent, with the average in the west of the country being 12.9 percent, 6.6 percent lower than in the east.
That corresponds with data provided by the German statistics office, which says that as of January of this year, unemployment was 13.9 percent in the east and 6.9 percent in the west.
Dividing up the wealth

At the unveiling, Schneider that new measures to fight poverty shouldn't include programs like the scrapping bonus. The 2,500-euro bonus goes to people who have their old cars scrapped and buy a new car. It's meant to help the ailing auto industry through the financial crisis.


Schneider said a third of the federal funds dedicated to economic stimulus measures, which amount to 10 billion euros, are going to the three states with the lowest poverty levels: Bavaria, Hesse and Baden-Wuerttemberg.


mrm/dpa/Reuters/AP


Editor: Nancy Isenson