An event Turkish Prime Minister Binali Yildirim is planning to hold in Germany has drawn criticism from a wide array of German politicians, according to German media reports on Wednesday.
Sevim Dagdelen of the Left party told German website Bild that the event should be banned. "Yildirim's advertising campaign for a dictatorship in Turkey absolutely has to be prevented," the daughter of Turkish Kurds said.
Yildirim is expected to hold a speech at an arena in Oberhausen on Saturday in order to mobilize Turkish voters living in Germany for a controversial constitutional referendum that will be held on April 18. If passed, the reform would significantly increase the powers of the Turkish president. Many observers worry that it could give President Recep Tayyip Erdogan too much unchecked freedom.
Stephan Mayer, the interior politics spokesperson for the conservative CDU/CSU, told Bild that "the planned constitutional change is clearing the way for a presidential dictatorship."
Green politician Cem Özdemir called the referendum a "farce"
Cem Özdemir of the Greens called the constitutional referendum a "farce" and said that Yildirim should not be able to campaign in Germany if critics of the reform were not. "If the Turkish prime minister wants to campaign for the abolishment of democracy in his country, I would at least expect that the incarcerated head of the opposition party HDP, Selahattin Demirtas, and all other opposition politicians would get to campaign freely for a democratic Turkey as well," he told Bild.
"Unbelievable impudence"
Wolfgang Kubicki of the libertarian FDP called the event an "unbelievable impudence" from members of the Turkish administration, saying that Yildirim was going to be "on German territory to advertise for an autocratic system in Turkey".
The federal administration's commissioner for integration, Aydan Özoguz, told Bild that she feared that the event could cause tension among Turkish-Germans: "With their massive campaign for the controversial constitutional reform, the Turkish administration is provoking a tension that could make the divide among Turkish citizens living in Germany deeper, which could be a burden on our society as a whole."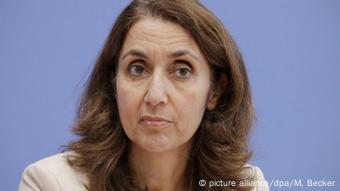 Integration commissioner Aydan Özoguz worried that Yildirim's speech could cause tension
Chancellor Angela Merkel's spokesperson took a more reconciliatory tone. "We of course assume that all people involved in the Oberhausen event will make sure that Germany will not become the setting for infighting among Turkish people," Steffen Seibert told reporters on Wednesday.
An organization representing the Turkish community in Germany said politicians criticizing Yildirim's visit were practicing a"double standard".
"Instead of criticizing attempts by the Turkish government to mobilize people in Germany, German politicians should work to improve opportunities for Turkish-born people to be politically involved in Germany, so they don't even consider seeing a Turkish politician as their advocate," spokesperson Gökay Sofuoglu told news network RND on Wednesday.
Two million Turks in Germany
There are roughly 2 million people in Germany who hold a Turkish passport, a quarter of them as German-Turkish dual citizens. President Erdogan's ultra-conservative AKP party usually does well among Turks in Germany: the AKP received 53 percent of their vote in the last parliamentary elections (compared to 41 percent overall). But the leftist, pro-Kurdish HDP, also scored above-average in Germany: roughly 18 percent of all "German" Turks voted for them, 5 percent more than overall.
In Germany, Turks and Germans with Turkish roots are among the largest minority groups, particularly in industrial cities in Western Germany. The Federal Republic of Germany invited Turkish guest workers to work in western German factories in the 1960s when native German workers could not fulfill the workload during the post-war economic boom. Oberhausen, where Yildirim will be holding his speech, is located in the Ruhr area, a densely-populated Western German industrial area with a high share of Turkish inhabitants.
mb/kl (AFP, dpa)