Chirac's threat of a nuclear response to any terrorist attack on his country prompted widespread criticism in diplomatic circles in Berlin.
The Christian Democrats (CDU) distanced themselves from Chirac's statements. CDU foreign policy expert Andreas Schockenhoff, referring to the international community's ongoing efforts to prevent countries such as Iran from developing nuclear weapons, suggested that Chirac was not being helpful.
"We have to convince these countries that their situation isn't going to get any better if they possess nuclear weapons," Schockenhoff told Reuters in Berlin. "I don't think Chirac's approach is really the best way to lead this debate and to increase pressure on Iran."
The Social Democrats' foreign policy expert, Gert Weisskirchen, told Spiegel Online that Chirac had acted rashly.
"This is a unilateral declaration on the part of the French president, and it's something he ought to have discussed with his European partners first," Weisskirchen said.
"Firm and appropriate response"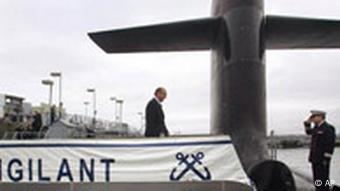 Chirac made the comments while visiting the L'Ile Longue military base in France
Chirac on Thursday raised the threat of a nuclear strike on any state that launches terrorist attacks against France.
"Leaders of any state that uses terrorist means against us, as well as any that may be envisaging -- in one way or another -- using weapons of mass destruction, must understand that they would be exposing themselves to a firm and appropriate response on our behalf," he said.
"That response could be conventional, it could also be of another nature," Chirac said in a clear reference to nuclear weapons during a visit to a French nuclear base in the northwestern region of Brittany.
Opposition demands government action
Free Democratic party chief Guido Westerwelle called on Chancellor Angela Merkel to "encourage restraint" from Chirac in comments to the Leipziger Volkszeitung newspaper.

"I don't think that anyone -- and certainly not peace or de-escalation -- is served when one trumpets to the world community employing nuclear weapons as an option," said Westerwelle, who leads the biggest opposition party in the Bundestag.


Germany's Green party called on the German government to demand Chirac to retract his threat. The Greens' defense expert, Winfried Nachtwei, called Chirac's statements "risky" and "irresponsible."
"The federal government must insist that our French allies take back this statement," Nachtwei told the Netzeitung.

There was no comment from the German government on Chirac's remarks on Thursday.
Senior Green party politician and former Environment Minister Jürgen Trittin said that Chirac's statement marked a "breathtaking turnaround" in French military strategy.
"I'm certain that this will not make the world a safer place," Trittin told Spiegel Online.