"I am sick of being the bogeyman," Nitzsche said on Friday, confirming his resignation from the Christian Democratic Union (CDU).
Nitzsche had recently caused an uproar in Germany when he said that Germany "should never again be governed by multicultural fags from Berlin." He was referring to the previous German coalition government consisting of the Social Democratic Party (SPD) and the Green party.
Nitzsche also spoke about the German "cult of guilt" in the way Germans deal with their country's past.
A relief for the conservatives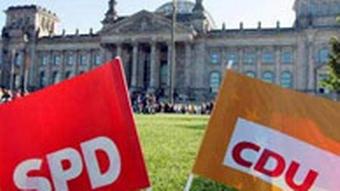 Once political foes, now coalition partners: SPD and CDU
The secretary general of the Christian Democratic Union in the German state of Saxony, Michael Kretschmer, said earlier on Friday that Nitzsche's resignation was a done deal.
"Officially, we have not yet received his letter of resignation," Kretschmer said. "But we have no doubt that this is the step he is going to take."
Kretschmer said he felt "relieved" now that Nitzsche was going resign and that the debate about the controversial politician has been "depressing and very burdensome" for the party.
Germany is currently governed by a grand coalition of the Christian Democratic Union and the Social Democratic Party.
No apologies
Even though his comments were widely criticized in Germany across the political spectrum, Nitzsche refused to apologize.
"I would once again say that multicultural fags ran down our fatherland," Nitzsche said on Friday.
Nitzsche accused the CDU leadership in Saxony of tolerating his controversial statements at first, but bowing, in the end, to "public pressure and denigrating me as an ultra-right radical."
Word choice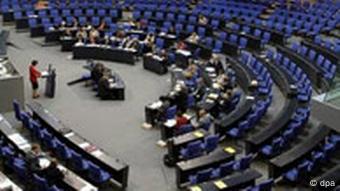 Nitzsche may stay in the German parliament until 2009
The CDU leadership, however, said that Nitzsche's rightist statements were never accepted by the party.
"We warned him of the consequences should something like this happen again," Kretschmer said. "The CDU is a conservative party. We approach politics with civility and seriousness. Any topic can be addressed, but the choice of words and arguments must be appropriate."
The 47-year-old Nitzsche has been a member of the CDU since 1993. He entered the 2005 election campaign with the populist slogan "Work, Family, Fatherland." According to media reports, he is expected to keep his post in the parliament until 2009.