Ahead of the debate the opposition parties had expressed their irritation that they were not included in Sunday's televised duel between conservative Chancellor Angela Merkel and her Social Democratic coalition partner, Frank-Walter Steinmeier. It was especially annoying, they said, since German public media is obliged to provide all parliamentary parties the same coverage ahead of elections.
As a result, the three opposition candidates, the liberal Free Democrats' Guido Westerwelle, Green party leader Juergen Trittin and the Left party's Oskar Lafontaine, were itching to sharpen their profiles - and outstrip the performances of Steinmeier and Merkel.
Liberals against minimum and maximum wage
Westerwelle was quick to distance himself from his opposition rivals, reiterating his party's staunch opposition to the introduction of a minimum wage. He argued that such a scheme would eliminate rather than create new jobs.

Westerwelle's tax and wage policy is only reconcilable with that of Merkel's CDU

Trittin and Lafontaine pointed to other European countries that had introduced the minimum wage successfully. They argued that politics had to intervene if some people in Germany were being forced to work for less than 4 euros ($5.85) per hour. Lafontaine called for a minimum of 10 euros per hour throughout Germany.
Westerwelle also argued against a mandatory limitation of executive salaries and bonus payments in private companies - a key Left party demand.
"No tax cuts," say Greens and Left
The debate also highlighted marked differences in the opposition parties' tax policies. Again Trittin and Lafontaine argued against Westerwelle, calling for an increased top income tax rate to make those who earn higher salaries take on more of the burden. Both rejected future tax cuts in view of Germany's existing debts and ballooning budget deficit.
Westerwelle in turn argued for tax cuts, saying that this was the right measure to create economic growth and new jobs.
All three politicians stressed their determination to do away with the mandatory retirement age of 67, a benchmark introduced by the current government.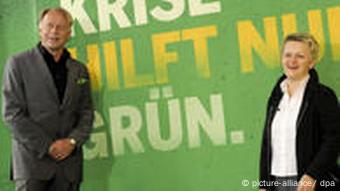 Trittin's Greens have most in common with the Social Democrats
Westerwelle and Lafontaine wanted more flexibility regarding the retirement age, while Trittin explained his party's proposal of establishing a guaranteed pension scheme for everyone with a balance of thirty-three working years.
Heading for a coalition stalemate?
With regard to potential coalition talks after the Sept. 27 election, Trittin said he was in principle willing to negotiate with all parties. However, the Green leader underlined that his party was determined to prevent a coalition government between Merkel's CDU/CSU and the Free Democrats, and that they were therefore unlikely to join one.
"We want to prevent a conservative-liberal government because that would, for example, mean no money for education, an attack on climate protection and the reintroduction of nuclear power," said Trittin.
Westerwelle, who is hoping to become the new foreign minister in a conservative-led government, said he would rather remain in opposition than join up with a party that was not compatible with the Free Democrats.
"Let me be frank: if I had wanted to govern in [with the Social Democrats and the Greens], then I would have done so by now," said Westerwelle, referring to the election stalemate of 2005 when he rebuffed an invitation by the Social Democrats to strike up such a coalition.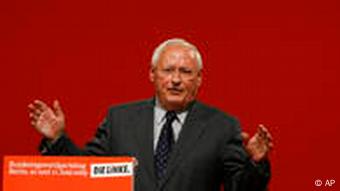 Lafontaine's Left party is gaining influence but has no partners at the federal level
Lafontaine, who fell from grace with the Social Democrats after leaving the party in 2005 and later forming a left alliance, had little to say on the coalition issue. He pointed out that all other parties had ruled out the option of joining up with the Left party.
If Merkel's CDU/CSU and the Free Democrats fail to garner enough votes, they will have to win over the Greens to govern. Assuming that the Social Democrats continue to rule out cooperation with the Left party on a federal level, they would likely need both the Greens and the liberals to have any chance of governing.
Otherwise, the current grand coalition of Christian Democrats and Social Democrats, the country's biggest parties, could spend another term in government together.

However, if the smaller parties continue winning away votes from those two - as seen in state elections this year - even the grand coalition might have to go in search of a third partner to secure a governing majority.
Author: Neil King
Editor: Nancy Isenson