Red-faced officials at the German culture ministry scrambled to apologize Tuesday after two gaffes at former Nazi concentration camps.
The first occurred when Hermann Schäfer, the deputy minister for culture and media, gave a speech at a memorial concert for victims of the Buchenwald camp near Weimar in central Germany.
He spoke at length about the ordeal faced by Germans expelled from their homes by Red Army forces in the final days of World War II but failed to mention Nazi crimes or Holocaust victims at any point during the speech.
Some 250,000 people from 36 countries were imprisoned at Buchenwald between 1937 and 1945, 56,000 of whom were killed or died as a result of the camp's grueling conditions.
Speech "bewildered" survivors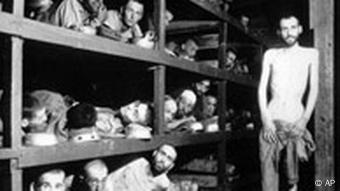 Some 56,000 people died in Buchenwald during its eight years of existence
The director of the Buchenwald memorial center, Volkhardt Knigge, and the head of the International Committee of Buchenwald-Dora, Bertrand Herz, said they were stunned by the speech, which was delivered Friday.
"I have never had such bewildered reactions from survivors," said Knigge, who called the remarks "a scandal" and suggested that the government no longer takes its responsibility for Germany's Nazi legacy seriously.
Herz, a Frenchman who was imprisoned at Buchenwald at the age of 14, called the speech "nationalistic" and an insult to victims of Nazi atrocities.
Parliamentary deputy speaker Katrin Göring-Eckardt of the Green party demanded an explanation from the government "to avoid further damage here and abroad."
"No intention of relativizing victims"
Amid calls for his resignation Tuesday, Schäfer apologized for any offense he caused.
"I did not know there were concentration camp victims sitting in the front rows," he told public broadcaster 3sat, referring to the audience at the ceremony. "I am sorry and apologize for that. I should have included them more in the speech and was probably obliged to."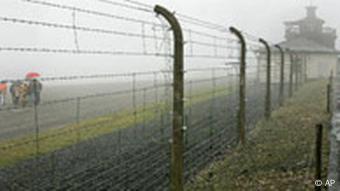 The camp was liberated on April 11, 1945, by the US Army
He said he had not included specific references to the Nazis' slaughter of six million Jews because he had been asked to speak on the government's policy on historical remembrance in general. Schäfer added that he had no intention of weighing the suffering of one group of victims against the other.
Schäfer's boss, Culture Minister Bernd Neumann, expressed his regret in a statement issued Tuesday for any offense caused by the speech, but said it was "completely absurd" to assume from it that Germany no longer saw the Holocaust as an unparalleled crime.
"I extremely regret any political misunderstandings and adverse effects to the event caused by my department director's speech," he said. "The Nazi dictatorship and the Holocaust it caused are unique in their cynically barbarous dimensions."
Fax mistakenly sent to concentration camps
Neumann's office was forced to apologize again Tuesday when it was revealed that all former Nazi concentration camps received a fax calling on them to hoist the German flag on "Home Day," Sept. 3, a memorial day for just the expelled Germans to whom Schäfer dedicated his speech.
A culture ministry spokeswoman said a "technical oversight" had included the camps, which are maintained in Germany as memorials, on the distribution list and that the ministry regretted the error.