Germany's Federal Office for Radioactive Protection (BfS) is to take over the ailing Asse nuclear storage facility in the state of Lower Saxony after strong criticism of operators Helmholtz's German Research Center for Environmental Health in Munich for failing to alert the government to violations at the site.
At an emergency meeting on Thursday, Sept. 4, German ministers agreed that the site will now be treated according to nuclear laws and not mining laws as was the case so far. In future, the facility will be under the jurisdiction of the federal environment ministry instead of the research ministry.
The move comes after German Environment Minister Sigmar Gabriel this week slammed Asse's operators for depositing highly radioactive waste for decades at the site.
Nuclear facility "like Swiss cheese"
Asse, a salt mine, was determined to be in worrying condition earlier this year. A report said the mine is considered to be in precarious condition and in danger of collapsing.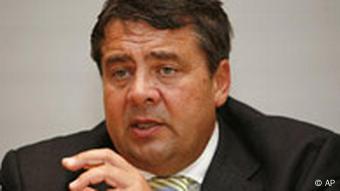 Gabriel has compared the facility to Swiss cheese
Some 126,000 containers of weak and moderate radioactive waste were stored in the mine in a test phase in the 1960s and 70s. But water has seeped into the shaft for decades, experts have said. Some are concerned the moist salt deposits could also damage containers stored there.
Gabriel told daily paper Bild on Thursday the Asse facility has "as many holes as Swiss cheese." He said it remained unclear who was ultimately to blame for the serious safety violations at the site.
"The fact is, operator Helmholtz Zentrum and the state mining office in Lower Saxony did not stick to the required regulations for radioactive protection," he said.
News of the violations at the site has prompted state prosecutors in the city of Braunschweig to investigate the matter.
"We are examining whether dangerous waste or radioactive substances were handled in Asse without authorization and whether the entire site was operated without permission," a spokesman the state prosecution in Braunschweig, Klaus Ziehe told news agency AP.
"Most problematic facility in Europe"
Earlier this week, Gabriel said Asse was "the most problematic nuclear facility in all of Europe."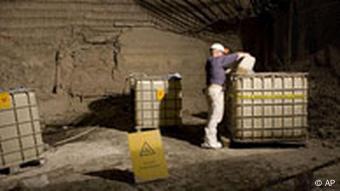 Leaky and corroded containers have experts concerned
The incident has sparked outrage among Germany's opposition Green Party.
Juergen Trittin, leading Green party politician and former environment minister at both the federal level and in Lower Saxony, told public broadcaster ARD this week that a criminal investigation was necessary to clarify who had allowed Asse to end up in such a precarious state. He said there were suspicions that highly radioactive waste were there without proper authorization.
The incident has also raised questions about what should actually be done with Germany's nuclear waste. Asse served as a model project for the planned permanent nuclear storage facility in Lower Saxony at Gorleben.