A week into the Islamic fasting period of Ramadan, Muslim groups in Germany have asked their community to dig deep for victims in flood-ravaged Pakistan, where an estimated 20 million people are suffering due to high waters.
Ayyub Axel Koehler, who chairs the Central Council of Muslims in Germany (ZMD), says the country's Muslim community is shocked and dismayed at the recent devastating floods that have killed around 2,000 people in Pakistan.
He says this is why a special slogan has been devised for this year's Ramadan: "Fast, pray, donate."
Koehler says German Muslims "feel a sense of responsibility" for those in flood-affected regions of the South Asian country, adding that Ramadan is viewed as a time of special social commitment, during which Muslims are asked to give to those in need.
Koehler says he welcomes this generosity as a "positive characteristic of the Muslim minority in Germany."
The Imam says he has put out a call for donations at Friday prayer, despite Muslims already being expected to donate 2.5 percent of their annual salary to those in need.
Manahnut Askar, who also works with the ZMD, says the organization has had many people inquiring about donating to Pakistani flood victims through Muslim aid groups such as the Red Crescent, the Muslim equivalent of the Red Cross.
Rapid response needed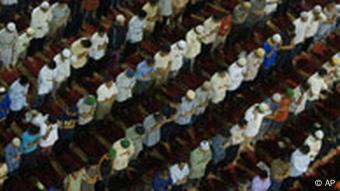 Ramadan can be seen as a time for giving
But the ZMD and the Red Crescent aren't alone in their mission to gather aid for Pakistanis, with a collection of other Muslim groups banding together to help.
The Germany branch of aid and development organization Islamic Relief is one such group that has rallied in support of flood victims. Islamic Relief Germany spokesperson Nuri Koeseli says that 100,000 euros ($129,000) was donated in the first week of flooding in northern Pakistan.
The group, which is a member of the United Nations Economic and Social Council, says it has workers on the ground in Pakistan and guarantees that donations make it to the victims of the natural disaster.
German Muslim aid group Muslime Helfen is also involved in the aid drive for Pakistan, throwing its support behind emergency accommodation for 2,000 flood victims.
Rustu Aslandur, who handles donations for Muslime Helfen, says Muslim aid groups work in a similar fashion as Christian and non-religious aid organizations.
Mobile donations
Another Muslim aid group, the German-Turkish organization Time to Help, has thought up an ingenious way for people to easily donate to victims of the Pakistan floods - via a mobile phone text message.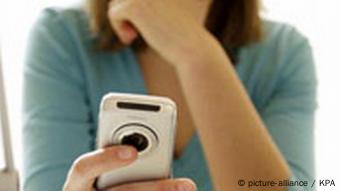 Time to Help says its new SMS donation service is a success
Prospective donors simply need to sign up to the service and set a password, and can shortly thereafter make a contribution of 5 euros via SMS. Time to Help managing director Burhanettin Demir says that 20,000 euros has been donated since the initiative was launched five days ago.
The organization has a much stronger presence in Turkey owing to greater media coverage there, and so the majority of donors are Turkish Muslims. But Demir says that attention and concern in the wider Muslim community is often centered on Pakistan.
"[Pakistan] is a very poor country and the people there are not helped by the government," says Demir, adding that donations are sent to Time to Help's partner in Pakistan, the PakTurk Foundation, which, he says, is an experienced and trusted organization that collaborated alongside Time to Help for victims of the tragic 2005 earthquake in northern Pakistan.
Author: Lena Retterath (dfm)
Editor: Rob Turner