German musician Peter Maffay received the Buber-Rosenzweig Medal Sunday for his decisive opposition to racism in general and anti-Semitism in particular.
The award was presented by the German Coordinating Council of Societies for Christian-Jewish Cooperation (DKR). The DKR is an umbrella organization of at least 44 different organizations.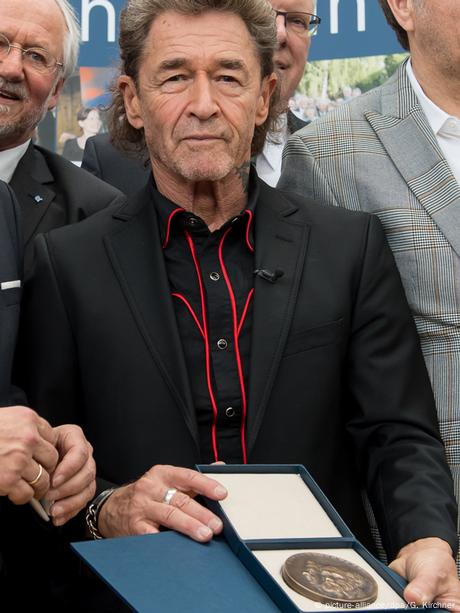 Peter Maffay displays his Buber-Rosenzweig Medal
At the ceremony, Maffay said, "Without dialogue, we won't be able to solve the problems in our world."
The award ceremony, which took place in the Ruhrfestspielhaus in Recklinghausen, 90 kilometers (55 miles) north of Cologne, also marked the start of the Christian-Jewish Week of Brotherhood. The seven-day event, which originated in 1952, is organized by the International Council of Christians and Jews (ICCJ). This year's slogan is: "Overcoming fear - building bridges."
Margaretha Hackermeier, the co-president of the Coordinating Council for the Collaboration of the Christian-Jewish Societies, praised Maffay's civil courage and his willingness to take a public stand against all forms of racism.
The name of the prize honors the memory of an Austrian-Jewish philosopher, translator and educator Martin Buber (1878-1965) and Franz Rosenzweig, a German-Jewish theologian (1886-1929).
Helping children
The annual prize was first awarded in 1952. The inaugural prize went to the historian Friedrich Heer and Protestant theologian Friedrich-Wilhelm Marquardt.
Other winners include German former-Foreign Minister Joschka Fischer, conductor Daniel Barenboim and writer Gyorgy Konrad.
Maffay also a runs an eponymous foundation with for children victimized by abuse or conflict. With a series of countryside homes in various locations, the foundation offers children a reprieve by providing a safe environment where they can relax and play
Maffay, 68, holds the German record for the most No. 1 ranked album sales charts, and that includes 16 albums.
In addition, each of his studio albums since 1979 has reached the top 10 in Germany. He also holds the record in Germany for most albums (14) with more than 1 million copies sold. Maffay's last one was his 2005 album, Laut and Leise (Loud and Quiet).
bik/sms (epd, dpa, KNA)