Spending the night in prison wasn't an experience Lukas Hermsmeier could have foreseen when he decided to leave his home in Berlin to work as a freelance journalist in the United States.
Just 10 days after arriving in his new base, New York, Hermsmeier was sent by German newspaper Bild to cover the protests that had erupted in the St. Louis suburb of Ferguson, following the fatal shooting of unarmed black teenager, Michael Brown, by a white police officer on August 9.
What started out as peaceful demonstrations in the small community of 21,000 soon turned into rioting, looting and racially-charged clashes between police and protesters. At the height of the violence, Missouri Governor Jay Nixon declared a state of emergency and deployed the National Guard to bring the situation under control.
"I did my job just like all the other journalists there. I spoke with protesters and made notes and took pictures," Hermsmeier told DW.
On August 18, a Monday, Hermsmeier says he and another journalist, Ryan Devereaux, had been speaking with protesters late in the evening after most of the crowds had dispersed, when they ran into trouble with the police.
"Two armored police trucks came in our direction and they were firing tear gas," the 27-year-old says. "We were just two people, not radiating danger at all, and had our hands up high and were shouting 'Journalist! Journalist! Journalist!' 'Press! Press! Press!' and had our press credentials in our hands."
Next, Hermsmeier says the police fired rubber bullets, arrested them and took them to jail, where they stayed handcuffed until morning.
This week, Hermsmeier, and three of his colleagues also arrested during the protests, filed a federal civil rights lawsuit accusing the St. Louis County Police Department and 20 of its officers of battery, false arrest and unreasonable search and seizure. St. Louis police have yet to respond to the suit.
'Failure to disperse'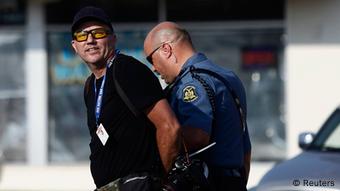 Getty photographer Scott Olson was among several press workers arrested in Ferguson
Besides Hermsmeier, the other plaintiffs include Ansgar Graw, senior US political correspondent for German newspaper Die Welt; Frank Herrmann, US correspondent for a number of regional German newspapers; and Ryan Devereaux, a US citizen writing for The Intercept. All four journalists were arrested on charges of "failure to disperse."
In the lawsuit, the journalists say police used excessive force and intimidation tactics as part of a "concerted effort to suppress constitutionally protected news gathering."
The document argues that police "subjected plaintiffs to violations of freedom of the press [enshrined in the First Amendment] and free speech, by purposefully obstructing plaintiffs from carrying out their assignments… which include oversight of police action against citizens engaged in protest activity."
Journalists doing their job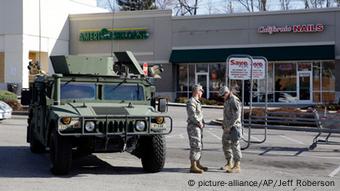 National Guard arrives in Ferguson
Plaintiff Ansgar Graw, who has worked as a correspondent in several countries including Iraq, Afghanistan, China and Russia, told DW he had never before been detained.
"We filed this lawsuit because we think it's not appropriate that journalists in the United States are treated in this way, that they are arrested, that some of them are shot at with rubber bullets," he says. "It's not about me, but about how police departments in the US, and especially this police department in St. Louis, treat the question of press freedom."
On August 18, Graw and his colleague Frank Herrmann had been attempting to photograph a gas station set on fire and looted several days earlier. Graw says police told them to "keep moving" down the empty street.
"I tried to combine this order with my job as a journalist - I walked in very little circles while I took photos but the officer was not satisfied."
Graw and Herrmann spent the next three hours in plastic handcuffs. When Graw asked for the arresting officer's name, the answer he got was: "Donald Duck."
While Graw's experience in Ferguson altered his perception that police are "a sort of friend or helper," he's quick to say he doesn't believe there's a general "police problem" in the US, but rather a problem with some police in St. Louis County. In subsequent visits to Ferguson, he says he's only had positive experiences with the police.
Training for officers
The arrests last year caused a stir in Germany, and caught the attention of the local media and journalist community. Spokesman for the German Journalists Union, Hendrik Zörner, has been following the case with interest, and says he understands why the journalists have chosen to pursue legal action.
"Police have to learn - and that's a question of education - what role the press has, what role journalists have, and they have to respect that role, even in situations that are particularly stressful," he says.
The Ferguson riots put the spotlight on police tactics in the US and their treatment of protesters as well as of reporters.
Freelance journalist Lukas Hermsmeier says he hopes the lawsuit will result in a rethink of police strategy and better training for officers before they're sent in to quell protests like the ones seen in Ferguson, "so that they deal with it better in the future."