An Afghan-German businessman kidnapped in Kabul was freed by Afghan agents, a spokesman of the country's intelligence service said Thursday, Aug. 7.
"Our agency was informed of the case yesterday and our forces conducted an operation last night, freeing the hostage and arresting three of the kidnappers," Sayed Ansari, a spokesman for the National Directorate of Security told the DPA news agency.
Another source from the same spy agency, who did not want to be named, said that the man was freed from a house in Bagram district in northern Parwan province, 50 kilometers (31 miles) from Kabul.
The German Foreign Ministry confirmed the release and said representatives from the embassy had been in contact with the businessman.
"He is well, under the circumstances," Foreign Ministry spokesman Jens Ploetner said in Berlin, expressing his thanks to the Afghan government and security forces.
Officials did not release more information regarding the kidnappers, neither did any group claim responsibility for the abduction.
Information that a businessman who holds dual Afghan and German citizenship had been kidnapped in Kabul became public Wednesday.
Germany's foreign office said they believed the abduction was criminally motivated.
Security sources in Kabul said the businessman had been in Afghanistan for about six months and was kidnapped one evening after work about two weeks ago.
Afghan kidnap industry continues to boom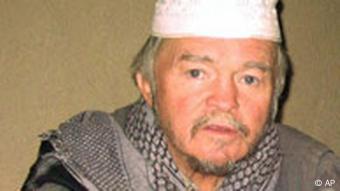 Blechschmidt was held by the Taliban for nearly three months
In all likelihood it was a "typical case of the local kidnapping industry," one source said.
Kidnappings for ransom, or other criminal motives, have increased sharply all over the country.
At least six Germans have been kidnapped in Afghanistan since the beginning of 2007. German engineer Rudolf Blechschmidt was released on Oct. 10 after nearly three months in the hands of his abductors.