German soccer managed an ignominious double on Saturday in Bratislava. On the pitch, the team around coach Jürgen Klinsmann embarrassed themselves by losing 2-0 to Slovakia, currently the 45th ranked team in the world.
To pour salt in the wound of German Soccer Association (DFB) officials and Interior Minister Otto Schily, who was present, German hooligans again ran amok off the pitch, albeit not to the extent they did at a friendly in Slovenia in March.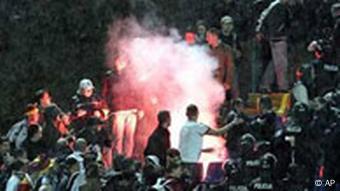 Slovenian police forces clash with German fans in March friendly in Celje
Six people were injured and two were taken into custody after a troop of hooligans who had made the trip to Bratislava did battle with Slovakian police. The DFB apologized for the behavior of the fans who during the match also screamed scandalous chants such as "Foreigners out" and "We've marched in again," in reference to Nazi Germany's occupation of then Czechoslovakia.
"That does not give a good image of Germans abroad," commented DFB team manager Oliver Bierhoff.
The incident was especially discouraging to organizers since German police and the DFB had worked closely with Slovak security officials before the match to prevent a repeat of the ugly riots in Celje in March.
Small allotment of tickets for Germans
The match between the two sides attracted little attention amongst soccer fans in Slovakia. Only 9,000 viewers attended the game at SK Slovan Stadium, which holds over 30,000. The DFB had sold 560 tickets through the national fan club as a measure to control just who would accompany the squad.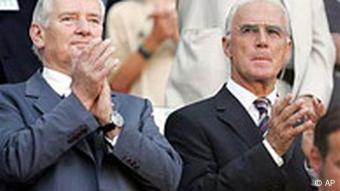 German Interior and Sports Minister Otto Schily (l) and German soccer legend and head of the Organizing Comitee for the World Cup 2006 Franz Beckenbauer
Hooligans made the journey anyway and got their hands on tickets from Slovak acquaintances.
"We do our best, but in another country it's difficult to control the situation," said Bierhoff.
Interior Minister Otto Schily appeared vindicated in the comments he had made ahead of the match when he said that tighter police cooperation, which Slovenian authorities had refused, would prevent any violence.
World Cup security in question?
In pure provocation towards the minister who has organized security measures so far in the run-up to the World Cup next year, hooligans chanted "We all have stadium bans," and "Otto, we're here anyway," during the game.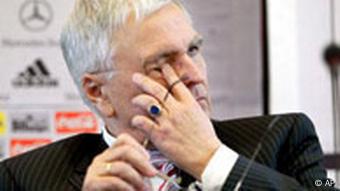 DFB president Theo Zwanziger
Schily may be out of office should the Social Democrats do poorly in the Sept. 18 general election. Yet, no matter which minister leads security measures in Germany when the World Cup kicks off in June 2006, the DFB wants to see violent supporters prevented from carrying out their agenda at World Cup cities.
It will be easier to control hooligans from getting to the stadiums, said DFB president Theo Zwanziger, but in public squares where games will be shown on large-screens, they must separated from peaceful soccer fans.
"We need a clear police presence, but it mustn't be conspicuous. It is supposed to be a peaceful party," he said in German sports television DSF.