The house in which Heike Jahberg lives has been packed in polystyrene, which means the residents use less energy to heat their rooms. For Jahberg, a 51-year-old journalist in Berlin, that means 10 euros ($13.32) less a month. She should be pleased.
"Yes, you'd think so," she tells DW, "If it weren't for the rent increase which came with the improvement in energy efficiency. That's 136 euros, so we're quite a bit out of pocket."
When renting becomes a luxury
Or take Jörg Lorenzen, 71, from Hamburg. His flat costs him 226 euros more a month. Lorenzen says that's too much for him. He's a retired insurance company employee who's lived in the flat for 36 years, and now he's had to move to the edge of the city.
The daily Frankfurter Allgemeine Zeitung newspaper quoted the letter he received - and which changed everything for him:
"Energy saving measures (insulation of the building) have cost 382,699.25 euros. Further modernization has cost 101,238.86 euros. According to paragraph 558 of the civil code, I am entitled to increase your rent by 11.45 euros per square meter."
That meant that Lorenzen had suddenly to pay a rent of 871 euros instead of 645. "Renting an apartment has become a luxury," he says.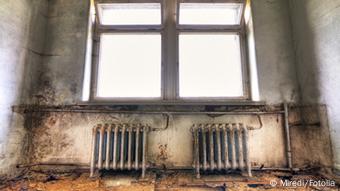 This clearly needs modernizing, but who should pay?
Germany is modernizing its housing stock little by little. Old windows are replaced by new; walls are insulated with polystyrene. It's government policy; it's supported by the state and it improves energy efficiency. Experts estimate that 40 percent of German energy is used for heating.
All the same, there's something wrong with this renovation drive. People are talking about an "insulation mania" which is driving tenants out of their homes. Ulrich Ropertz of the German Renters' Federation thinks that the government's new energy policy is being carried out at the expense of tenants.
"What it means in clear words," he says, "is that, under the current system, the tenants are having to pay a lot more whenever there's an improvement in energy efficiency."
Intrusive scaffolding
Heike Jahberg had to put up with scaffolding on her building for months, so that her flat was dark all day, and she couldn't go out on her balcony. She couldn't really judge whether the costs that were claimed were justified, but now she's having to pay through the nose.
"It's the law that's wrong," she says. "It allows the landlord to lay the costs for anything that saves energy on the tenant - for the rest of his life."
The law allows the landlord to apply 11 percent of the cost on the tenant. Until now, tenants have been able to claim a rebate on their rent while building work was going on if dirt and noise caused them serious inconvenience. The law is about to change, and many think it will make things worse for tenants.
Ropertz points to what he sees as the most important change: "The tenant won't be able to reduce the rent if the work on the energy-saving measures causes him serious inconvenience in his flat."
The government hopes thereby to encourage more energy-saving modernization, but Ropertz believes energy-saving renovation is a trick to deprive tenants of their rights. After all, property owners don't decide whether to carry out an investment worth maybe several hundred thousand euros on the basis of whether a tenant is going to pay a bit less rent for a few months.
And some things about the new rules are just bizarre: "If the scaffolding is put up for ordinary repairs, the tenant can pay less rent - if it's for energy-saving measures, he can't. That's absurd."
Germany is a country of renters
In spite of their prosperity, Germans are a nation of renters: 54 percent rent their homes. In Berlin, the proportion goes up to 85 percent. That's why rent levels are as important in Germany as wheat prices might be elsewhere. And rents are rocketing in Germany's big cities.
The German Renters' Federation has warned that the country has a shortage of a quarter of a million homes. It's such an important issue that many believe it will decide elections in the future. The center-left Social Democrats have called for a "rent brake" if they win the election due in September 2013. They say that they want to ensure that new tenants, existing tenants and those in homes which are being modernized all enjoy the benefit of legal limits to their rents.
The landlords' organization "House and Land" doesn't agree. They say that this would only prevent needed investment, at the expense of the quality and the number of flats on offer. And they add that rents have only been rising in particularly popular parts of big cities - elsewhere they've actually been sinking. And anyway tenants aren't having to pay that much, according to House and Land.
Kai Warnecke of House and Land admits that energy-saving renovation is an expensive business: "Energy efficient modernization is something that people have to pay for: landlords, owner-occupiers, tenants - it's expensive for all of them."
And rising living costs are the drawback of the government's new energy policy and climate protection measures, he says: "Homes will become more expensive. But that's for environmental reasons, and not because the landlords want to make more money."
The two sides, tenants and landlords, may agree on one thing: the new energy policy is an issue for the whole of society, and the state should support the installation of new windows and building insulation financially.
Heike Jahberg has her own view about the dilemma between economics and climate protection: "It seems clear to me that the law has to be changed. I find it quite right that energy should be saved and something should be done for the climate. But the costs have to be divided fairly."