The 480 billion-euro ($650 billion) rescue package had been approved by parliament Friday, Oct. 17.
The conditions include capping the maximum capital injection which each bank may receive at 10 billion euros, a finance ministry spokesman said.
Executive salaries at banks that get help will be capped at 500,000 euros, although exceptions are possible.
Those managers would also be forced to give up bonuses and dividend payments during the period their banks were indebted to the state.
The government is also planning to exercise influence over the business strategy of financial houses that have been hit by the crisis, which is likely to result in banks steering away from risky investments.
Up to 400 billion euro from the package is earmarked for lending guarantees for banks, with the remaining 80 billion going towards recapitalizing institutions and, if necessary, purchasing risky assets.
In announcing the conditions for the bailout package, the government also made a stern appeal to shaky German financial institutions to take up its offer.
Banks' responses mixed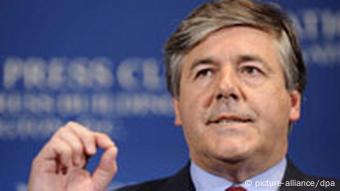 Josef Ackermann said he would be ashamed if Deutsche Bank accepted government funds
But the heads of a collection of Germany's largest commercial banks said they would not immediately seek a portion of the funds under the current terms.
Deutsche Bank chief Josef Ackermann said Saturday his bank did not require a cash injection from the bailout package.
Ackermann said that "at no point" had Deutsche Bank been in danger during the financial crisis.
"I would be ashamed if we were to take state money during this crisis," he said.
Ackermann's comments ruffled officials' feathers, however, with government spokesman Thomas Steg saying the Deutsche Bank chief's words aroused ire at a meeting of the German cabinet on Monday.
Steg labelled the comments "totally incomprehensible" and "objectionable."
Bavarian bank a likely taker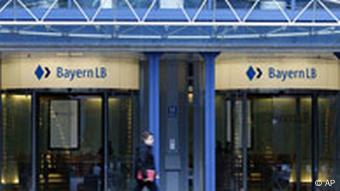 BayernLB has accepted the government's conditions on its bailout plan
Going against the grain though is Bavarian state bank BayernLB, which said it would likely seek money from the package as soon as possible.
Erwin Huber, the bank's administrative board chief and Bavarian finance minister, told the ZDF-Morgenmagazin television program on Monday that the funds are being sought to achieve "a fast stabilization."
Huber did not disclose the amount the bank would seek to borrow from the government, but alluded to a possible restructuring or partial privatization of the state institution.