A recent ruling by the European Court of Human Rights in Strasbourg means that Germany can no longer keep dangerous offenders who have served their sentences in preventive detention for an indefinite period. The search is on for how to prevent released convicts from becoming a public threat again. Following calls for electronic bracelets, some regional conservative politicians have demanded that a public register for offenders be set up on the Internet.

"Nobody wants to have such potentially dangerous persons in his or her neighborhood without even being aware of their presence," said the head of the country's police union, Rainer Wendt, on Tuesday. "If these criminals are at large again, we'd need up to 5,000 police to follow their every move, and we just don't have such capacities."

Lack of alternatives?

An online register with the photos and addresses of offenders was a last resort and an act of self-defense, Wendt said, adding that policymakers had so far failed to come up with a viable solution.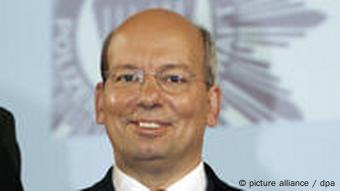 Wendt says police can't deal with the problem alone

The government in Berlin indicated that they had not considered such an option, nor would they do so in the future. Such a register would at most lead to "denunciation and mob law" without providing protection, said Federal Justice Minister Thomas de Maiziere.

Government spokespeople from the Justice and Interior Ministries said that a public collection of offenders names and addresses would be highly problematic legally.

"The proposal is definitely not in line with our laws," added Sebastian Edathy, a senior member of the opposition Social Democratic Party. "The constitution says that human dignity is inviolable, and this certainly also goes for offenders who've done their time."

Desired impact?

According to legal expert Joerg Kinzig of Tuebingen University, there are more reasons why an online public register shouldn't be viewed as a cure-all.

"Studies in the United States, where such a registers exist, have shown that it has not contributed toward reducing the number of repeat offenders," Kinzig said. "Some have been killed by outraged neighbors, and they even killed people whom they wrongly believed to be offenders."

But the issue remains that the state must find a solution of what to do with the approximately 80 potentially dangerous offenders who will be released from preventive custody over the next few months.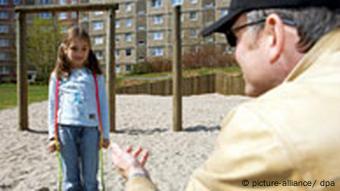 Parents fear for their kids, if offenders are released

Hesse state justice minister Joerg-Uwe Hahn said politicians should concentrate on finding a way to keep dangerous persons locked away from the public.

"We could build special detention units to be used jointly by neighboring German states," Hahn said. "Offenders wouldn't be able to leave, but they wouldn't be subjected to the restrictions in place in ordinary detention centers."

Hahn also suggested that convicts in such units should be entitled to full therapeutic treatment.

Politicians are hopeful that such centers would then no longer run afoul of the ruling issued by the European Court of Human Rights.

However, it would take years for such facilities to be built - and the offenders in question couldn't be kept in ordinary preventive custody that long.

Author: Hardy Graupner
Editor: Nancy Isenson