Three German soldiers and six Afghans were killed on Saturday when a suicide bomber blew himself up in a crowded market in the northern city of Kunduz on Saturday.
The Taliban claimed responsibility for the attack, which was the worst on the 3,000 German troops serving in Afghanistan since four were killed in a suicide car bombing in Kabul in 2003.
Members of both sides of the right-left coalition in power in Berlin said Germany's commitment to rebuilding Afghanistan would not be shaken by the attack.
Karl Theodor Guttenberg, a foreign policy specialist from Chancellor Angela Merkel's conservative Christian Democrats, said: "It would be absurd to withdraw and it would only worsen the terrorist threat. It would also increase the demands from terrorists towards the international community and us."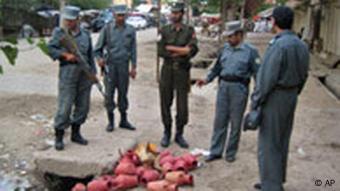 The attack took place on this site, at a market in Kunduz

A radical Islamic group currently holding two German civilians hostage in Iraq has threatened to execute them unless Germany pulls its troops out of Afghanistan, where it is the third-largest force after the United States and Britain.

"Justified to prolong mandate"

Walter Kolbow, the deputy head of the parliamentary party of the Social Democrats, who form the other half of the coalition, told the Bild am Sonntag newspaper: "Even though this was a serious attack, we mustn't base our entire assessment of the situation on it.

"It is justified to prolong the mandate (for German troops to stay in Afghanistan)."

Merkel described the attacks as "treacherous murders," while Afghan President Hamid Karzai condemned the bombing and said "the enemies of Afghanistan must understand that they will never be able to hamper the progress of Afghanistan with their acts of cowardice."

Defense Minister Franz Josef Jung said the soldiers had got out of their armored vehicle and were shopping in the bazaar when the bomber struck.

Winning hearts and minds

"We must win the confidence of the local population," he told Bild am Sonntag. "To do that it is necessary to get out of the armored cars. Unfortunately there is no 100 percent protection against suicide bombers."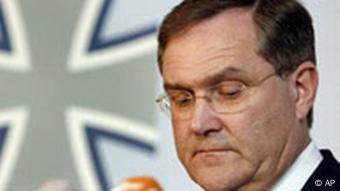 Defense Minister Jung

The attack on Saturday brought to 21 the number of German soldiers who have lost their lives in Afghanistan since 2002.

Around 60 foreign soldiers involved in the ISAF international mission to Afghanistan have died this year, mostly in attacks or combat missions.

The north of Afghanistan has seen relatively little of the violence linked to a Taliban-led insurgency plaguing the south and east, but the Taliban vowed last month to intensify attacks in the north.

Germany recently deployed Tornado jets to Afghanistan to carry out surveillance missions to aid US-led troops in hunting down Taliban fighters, but the government has refused to bow to demands to move troops into the south.