Two films cleaned up 10 of the major German Film Prizes, or Lolas, at the award ceremony on Friday evening in Berlin.
The top award for best film went to "Halt auf freie Strecke" ("Stopped on track"), a portrait of a man dying of a brain tumor. Director Andreas Dresen also won the Lola for best director, the second time the 48-year-old has picked up that award - having won it in 2009 for "Wolke 9" ("Cloud 9"), a comedic and sometimes explicit look at the love lives of senior citizens.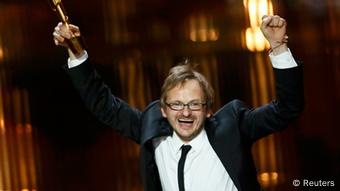 Milan Peschel's protrayal of a terminally ill father won him best actor
"Stopped on track's" lead actor Milan Peschel, who plays terminally ill family man Frank Lange, as well as Otto Mellies, who plays Frank's father, picked up the Lolas for lead and supporting actor.
The controversial exploration of William Shakespeare filmed at Berlin's Baselberg Studios, "Anonymous," also picked up six awards mostly in technical categories. The film depicts Shakespeare as an alcoholic imbecile scarcely capable of penning the plays published in his name, theorizing that Earl of Oxford Edward de Vere had actually written works like "King Lear" and "Macbeth."
Director Roland Emmerich, better known for disaster movies like "Independence Day" and "2012," had faced criticism in the UK - not least from scholars of "the bard" who said the film's theories were at best far-fetched. The picture, starring Vanessa Redgrave and Rhys Ifans, grabbed Lolas in areas including sound, best costume picture, and best film production.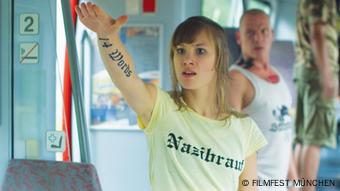 Andrea Levshin picked up best actress for her portrayal of a neo-Nazi in Germany
A drama set in former Communist East Germany, "Barbara," went into the evening as favorite, having been nominated for eight awards - but director Christian Petzold had to make do with the silver Lola for best film, just behind "Stopped on track."
Third-prize in this main category went to David Wnendt's drama about young, female neo-Nazis in eastern Germany, "Kriegerin" ("Combat Girls"). The star of this film, 27-year-old Andrea Levshin, won the best actress award.
Friday's ceremony marked the 62nd annual German Film Prize awards, with prize monies totaling almost 3 million euros (roughly $4 million) awarded.
msh/srs (dapd, dpa, Reuters)