Yesterday, the world's largest online book retailer, Amazon.com, announced it was launching a newer version of the Kindle, at an even cheaper price -- $139 (107 euros). The company says the e-book reader will start shipping to its American customers at the end of August.
This aggressive move further into the e-book market comes just a week after Amazon.com also announced that it had sold more digital books than hardbacks in the second quarter of 2010.
From April to June, the company sold 43 percent more digital books for its Kindle handheld device than hardback books, nearly three years after the electronic format became available. Total e-book sales tripled from the first half of 2009 to the first half of 2010.
However, despite the rapid growth in the United States, in Germany, one of the continent's biggest book markets, uptake of e-books has been much slower.
Around 25,000 e-book titles are listed on the Libreka site - an online e-book shop of the German Booksellers' Association. However, compared to the 1.2 million printed books available on the German market, this is a very small number. It reflects the current reality of the state of the German e-book market.
According to Roland Schild, the CEO of Libreka, there are two main reasons why the German e-book market share is still well under one percent. The first is that the range of e-book bestsellers is "still not wide enough." The second is that "for a long time we didn't have an adequate reading device," although "now we have the iPad, and we know that this year there will be several more coming out of the major suppliers' development labs."
Lack of compatible devices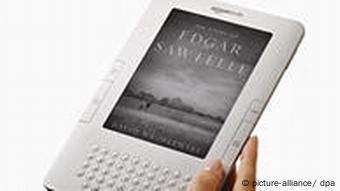 Amazon's newly-announced Kindle will sell for $139 (WiFi only) or $189 (WiFi+3G)
The slow take-up of e-books among German consumers is only slowed down further by the lack of interchangeable e-readers available. For example, e-books available for the Apple iPad or the Amazon Kindle are not yet compatible with each another.
"Unfortunately, we're in a situation where the big suppliers use their own formats," Schild said in an interview with Deutsche Welle. "So that their e-books can only be read using their readers - which for the consumer is obviously not a very attractive scenario, because it means that if you switch to a new reader, you also have to buy a whole new library."
Who is a real publisher?
When it comes to online booksellers like Amazon and the Apple iBook store, it's becoming increasingly unclear who counts as a publisher and who does not. Dorothee Ritz is the online and consumer general manager for Microsoft Germany. She believes that media question will not be nearly so important in future.
"We're a software company, not a media company by any means, but certainly to some extent we are a publisher – in the sense that all the consumers who are on our platforms are creating an incredible amount of content," said Ritz. "And I think we do publish, in that we combine the content that's already out there with what today might be called the classic book form, and so that creates entirely new and exciting forms of books and content."
Traditional book publishers need to adapt
Despite the slow growth of the German e-book market, it is still set to challenge the traditional book market in the future. As books are increasingly digitized and sold online, the future of bookstores is becoming uncertain. The bookstore Osiander in southern Germany has decided to adapt to the situation rather than give up. The mid-sized firm has 22 branches and has recently established its own online e-book store.
"When people buy e-books now, they have to go to different providers and have an account with each," said Hermann-Arndt Riethmueller, Osiander's CEO, in an interview with Deutsche Welle. "But when they buy e-books through our bookstore, they can find titles from all of these providers in one place. I think it's a great opportunity for us."
It is hard to predict how readers will respond to e-books in the future. Some in the industry are keeping an eye on the US market, where e-books already account for almost ten percent of total sales. Whether Germany will follow that trend is hard to say, but many Germans are already making the move to e-books. One recent survey result found that this year three million of Germany's 80 million people will buy an e-book.
Author: Nadine Wojcik (ew)
Editor: Cyrus Farivar