Development Minister Dirk Niebel announced Tuesday that he wants to consolidate three of Germany's international development agencies into one entity, to be called the German Association for International Cooperation. Niebel said the move would increase efficiency and reduce red tape.
The new institution would include German technical aid organization GTZ, the German Development Service (DED), and the international capacity-building agency Inwent. It would officially come into existence on January 1, 2011 - if the federal cabinet approves the change in a vote scheduled for July 7.
The three agencies currently employ a total of 17,000 people worldwide. Their replacement would have its headquarters in Bonn and a second office in Eschborn, near Frankfurt. Inwent would retain its 14 regional offices in Germany and others maintained with partners throughout the world.
Savings will remain in the development budget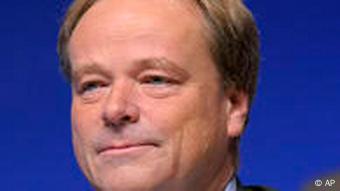 Dirk Niebel's plans for reform of Germany's development infrastructure are controversial
Niebel, a member of Germany's pro-business Free Democratic Party, told German television that the move was completely separate from the federal government's recently announced cost-cutting measures.
"It's natural, of course, that with increasingly strained public finance, things must be made more efficient," Niebel said.
Niebel said he had talked to the Finance Minister about allowing the savings from the consolidation to remain within the ministry budget - so that although the ministry would not see any funding increases until 2014, it wouldn't see any budget cuts, either.
The plan has been criticized by the opposition Social Democrats' spokesperson for development policy, Sascha Raabe. Raabe told the Protestant News Service (epd) that Niebel lacked the courage for the required major reforms, and was instead making cosmetic changes.
"That is not going to help our partners in the world," Raabe said.
Author: Stephanie Siek (KNA/EPD/dpa)
Editor: Michael Lawton