A German district court in Düsseldorf on Tuesday amended last week's injunction brought by Apple against Samsung. The Korean company is now allowed to sell its new Galaxy Tab 10.1 tablet computer in nearly all European Union member states.
The order had previously prohibited Samsung from selling the tablet computer in all European Union countries, except the Netherlands, where a separate case had been filed.
While the change temporarily suspends enforcement of the injunction, the sales ban on the tablet device still applies in Germany and to all EU sales by Samsung's German subsidiary. But the parent company, Korea-based Samsung Electronics Ltd., is still free to sell the tablet across the 27-member bloc with the exception of Germany.
Contested community design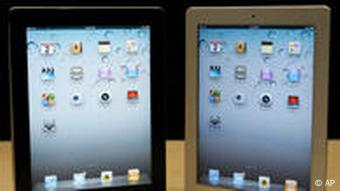 Apple alleges that the Galaxy Tab is too close in design to its iPad 2 (pictured)
Apple, which makes the popular iPad, filed the case against Samsung earlier this month, alleging that the Korean tech giant had infringed upon Apple's "community design" of the iPad 2 and that the Galaxy Tab was too similar to the Apple tablet. Samsung denied those allegations and appealed the court's decision last week.
As a result of that appeal, the Düsseldorf court now must re-examine whether a German court has authority to prevent a non-European company from selling goods in countries other than Germany, court spokesman Peter Schütz wrote in an e-mail to Deutsche Welle, adding that the EU-wide injunction will not be enforced until a new hearing convenes on August 25.
A Samsung spokesperson said the company was pleased with Tuesday's ruling.
"Samsung welcomes the Düsseldorf District Court's decision to suspend the pan-European preliminary injunction against the Samsung Galaxy Tab 10.1," Rachel Jones, a Samsung spokesperson, wrote in an e-mail to Deutsche Welle.
"Samsung is fully committed to providing our innovative mobile devices to the market without disruption, and ensuring that consumers have a wider selection of innovative products to choose from," she said.
An Apple spokesperson declined to comment on the court's new decision.
Legal ambiguity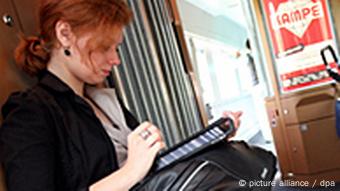 Samsung is trying to capture some of Apple's market share in Europe
In a Tuesday blog post, Frank Mueller, an independent German intellectual property rights analyst, wrote that Apple's lawyers still had a valid argument based on ambiguities in the wording of European Union community design law.
The law can be interpreted to mean that subsidiaries, even if wholly-owned by the parent company, are separate legal entities from their parent company. Such an interpretation would prevent Apple from suing Samsung in Germany. If, however, subsidiaries are deemed establishments of the parent company, the lawsuit could go ahead in Germany.
Though sales in Germany are unlikely to resume until the case is decided, Mueller wrote that he believes Samsung has a good chance to have the EU injunction reversed for the South Korean parent company at the hearing next week. He also wrote that the case could create an uncomfortable situation for Apple.
"Should the [appeals] court really find that the Düsseldorf court didn't have personal jurisdiction over a Korean company, this would reinforce a lot of people's impression that Apple's enforcement of design-related rights is, even though understandable to a certain degree, overreaching in some areas."
Author: Cyrus Farivar
Editor: Sean Sinico