Beleaguered German TV presenter and comedian Jan Böhmermann announced that he would be taking a break from broadcasting for several weeks.
He said that he took the decision "so the public and the internet can return to focusing on the important things in life like the refugee crisis, cat videos and the love life of [German TV actress] Sophia Thomalla."
Böhmermann thanked his followers on Facebook for their support and joked that he would be leaving the country "for the time being" in order to study "freedom of the press and freedom of art in greater detail" while travelling through North Korea.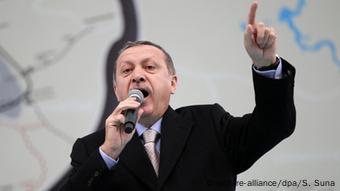 Erdogan reported Böhmermann in person, referring to paragraph 2013 of the German penal code
However, it is unlikely that Böhmermann will have time to leave the country any time soon, after German chancellor Angela Merkel agreed to have preliminary proceedings started against the comedian - despite facing considerable opposition in her parliamentary grand coalition. Turkish President Recep Tayyip Erdogan reported Böhmermann under an obscure article of German criminal law which protects foreign heads of state from being insulted.
Despite giving the green light for legal proceedings, Merkel also announced that paragraph 103 of the German criminal code would be abolished by the year 2018. Böhmermann had recited a condescending poem on his TV show on March 31, 2016, in which he had criticized Erdogan for his authoritarian leadership while also humorously stating that the Turkish President engaged in misogyny, bestiality and pedophilia. Böhmermann's poem was preceded by a disclaimer saying that he was about to illustrate the boundaries of freedom of speech and satire. The Turkish government, however, insisted that the performance was "deliberately hurtful."
Public support
According to Germany's public broadcaster ZDF, Böhmermann's show "Neo Magazin Royale" will be placed on hold until May 12, 2016. The TV channel said that it "respected" Böhmermann's decision and that it would assist him with all legal matters. However, the notorious poem has since been removed from the ZDF online media center and has also been deleted from its YouTube account. The head of ZDF said that deleting the performance was the easiest way to deal with public pressure while continuing to support the comedian.
Despite the fact that many Germans have come out in his support, Böhmermann has been under police protection for several days.
ss/rc (dpa, epd, afp, Reuters)