On Wednesday, Delmenhorst City Council paid three million euros ($4 million) for the Hotel am Stadtpark. Nearly a third of the money was collected by the city's 75,000 residents to stop the neo-Nazis moving into town.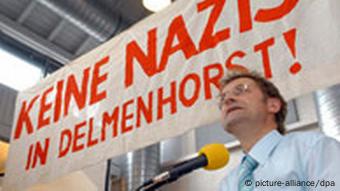 Delmenhorst residents held a series of fund-raising events and rallies to buy the hotel
Delmenhorst's mayor, Patrick de La Lanne, described the purchase as a victory.
"We did it!. We have kept the Nazis out of our town," La Lanne said.
Delmenhorst residents fought the supposed plans by a well-known far-right lawyer Jürgen Rieger to buy the vacant hotel and convert it into a meeting point and training site for neo-Nazi groups.
Rieger reportedly offered 3.4 million euros for the site. The hotel's vendor was persuaded to accept slightly less from the civic-action group.
Inflated price
According to evaluators, the hotel was only worth 1.3 million. The town had to pay a political price, La Lanne said. "We have political enemy, and that's the Nazis."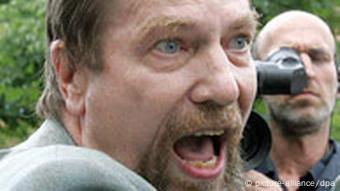 The Hamburg lawyer Jürgen Rieger is known for denying the Holocaust and defending neo-Nazis in court
However, even back in September, the seriousness of the original offer by Rieger and his clients -- the mysterious Wilhelm Tietjen Foundation for Fertilization -- was in doubt.
Critics said the campaign was a ploy by Nazis and property-owners to drive up prices, and warned that paying the inflated sum could cause similar activities in other parts of Germany.
Delmenhorst Council is unsure what it will do with the 100 room hotel now. There have been suggestions to turn it into an old-people's home or a community center.